Products you can rely on.
Is there anything better than the fresh, rich flavor of a vine-ripened tomato from California? The savory taste of the tomato is a highly sought-after ingredient to many food product offerings, which is why we use the most reliable, sustainable, and high-quality tomatoes for our bulk ingredient tomato products.
Morning Star offers a full line of ingredient tomato products in 55-gallon drums and 300-gallon bins. Our operation is sophisticated enough to meet the exacting performance standards of customers looking for paste that's not just a commodity. We also have a tube-in-tube line that makes diced, purees, crushed and formulated products.
 The flexibility of our operations is unsurpassed in the industry.
We use innovative thought to bring together the best technologies to make our manufacturing processes as reliable and streamlined as possible.
Our factories are large to spread the overhead costs over the volume of our products.
Our ability to meet specifications of even the most unusual products allows us to better serve all customers.
Wondering what ingredient will work best for your end product?
Color is an important measurement parameter in tomato products and is commonly associated with overall quality.  Common finished tomato products requiring high color standards include juices, ketchup and sauces.  However, products such as BBQ sauce do not require such tight color standards.
Additionally, finish is a key factor in both yield and texture of a final product. The quality of insoluble solids significantly improves ingredient yields, while texture adds to the mouth feel of the final product.
Learn about our various finishes on Morning Star's Paste Finish Standards of Identity page.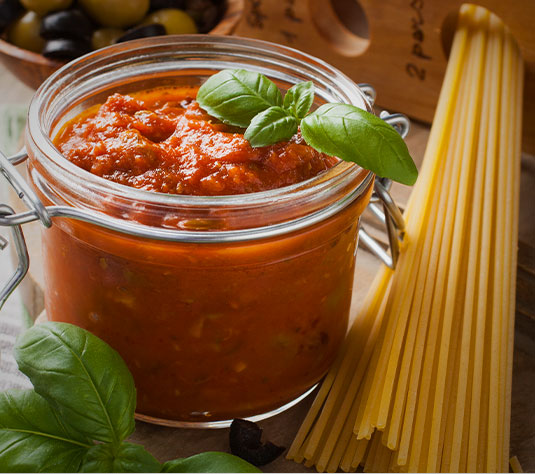 | | Pasta Sauce | Pizza Sauce | Salsas | Ketchup | Dipping Sauce | BBQ Sauce | Soups | Drinks | Frozen Foods |
| --- | --- | --- | --- | --- | --- | --- | --- | --- | --- |
| Hot Break Paste | x | x | x | x | x | x | x | x | x |
| Cold Break Paste | | | | | | | x | x | x |
| Diced in Juice | x | x | x | | | | x | | x |
| Concentrated Crushed | x | x | x | | | | | | x |
| Coarse Ground in Puree | x | | x | | | | | | x |
| Fire-Roasted Diced in Juice | x | x | x | | x | x | | | x |
VF = Very Fine (.020″) | FF = Fine Finish (.020″-.033″) | MF = Medium Finish (.033″-.060″) | CF = Coarse Finish (.045″-.060″) VC = Very Coarse (.060″)
FC = Fine Crush (.090″) | MC = Medium Crush (.156″)
CC = Coarse Crush (.250″)
| Product | Morning Star Finishes | 300-Gal Bin | 55-Gal Drum | 30lb Bag-in-Box | 25lb Bag-in-Box | Specifications |
| --- | --- | --- | --- | --- | --- | --- |
| Hot Break Tomato Paste | | | | | | |
| 26% - 28% | MF - CF | x | x | | | View |
| 29% - 31% | FF - CF | x | x | | | View |
| Export | FF - CF | x | x | | | View |
| Organic Hot Break Tomato Paste | | | | | | |
| 26% - 28% | FF - CF | x | x | | | View |
| 29% - 31% | FF - CF | x | x | | | View |
| Cold Break Tomato Paste | | | | | | |
| 29 - 37% | VFF - CF | x | x | | | View |
| Export | VFF - CF | x | x | | | View |
| Organic Cold Break Tomato Paste | | | | | | |
| 29 - 37% | VFF - CF | x | x | | | View |
| Concentrated Crushed - Hot Break | | | | | | |
| 26% - 28% | FC - CC | x | x | | | View |
| 31% | FC - MC | x | x | | | View |
| Organic Concentrated Crushed - Hot Break | | | | | | |
| 26% - 28% | FC - CC | x | x | | | View |
| Diced Tomatoes | | | | | | |
| Diced in Juice | n/a | x | x | | | View |
| Diced in Puree | n/a | x | x | | | View |
| Diced in Puree - Extra Drain | n/a | x | x | | | View |
| Random Kitchen Cut Strips in Puree | n/a | x | x | | | View |
| Peeled Strip Cut Tomatoes in Puree | n/a | x | x | | | View |
| Fire Roasted Diced Juice | n/a | x | x | | | View |
| Organic Diced Tomatoes | | | | | | |
| Organic Diced in Juice | n/a | x | x | | | View |
| Organic Diced in Puree | n/a | x | x | | | View |
| Organic Diced in Puree - Extra Drain | n/a | x | x | | | View |
| Tomato Puree | | | | | | |
| Tomato Puree - 1.07 Specific Gravity | n/a | x | x | | | View |
| Formulated | | | | | | |
| Ketchup Base | n/a | x | x | | | View |
| Chili Sauce | n/a | x | x | | | View |
| Sun Dried Tomatoes | | | | | | |
| Sun Dried Tomato (all forms) | n/a | | | x | x | Valley Sun Products, Inc. |
| Organic Sun Dried Tomato (all forms) | n/a | | | x | x | Valley Sun Products, Inc. |
| Dehydrated Powders | | | | | | |
| Tomato | n/a | Bulk Rail/Train and Tote | | | | View |
| Apple | n/a | Bulk Rail/Train and Tote | | | | View |
| Broccoli | n/a | Bulk Rail/Train and Tote | | | | View |
| Pumpkin | n/a | Bulk Rail/Train and Tote | | | | View |
| Product | 6 oz Can | 8 oz Can | 12 oz Can | 15 oz Can | 28 oz Can | #10 Can | #10 Pouch | 5lb Bag-in-Box |
| --- | --- | --- | --- | --- | --- | --- | --- | --- |
| Premium Red – Whole Peeled in Heavy Juice | | | | | | | x | |
| Whole Peeled in Puree | | | | x | x | x | x | |
| Whole Peeled in Juice | | | | x | x | x | x | |
| Whole Peeled Pear Tomatoes w/ Basil | | | | | x | x | | |
| Extra Heavy Concentrated Crushed | | | | x | x | x | x | |
| Ground Peeled/Crushed in Puree | | | | x | x | x | x | |
| Kitchen Cut/Random Strips in Puree | | | | | | x | x | |
| Tomato Sauce | | x | x | x | x | x | x | |
| Spaghetti Sauce | | | | | x | x | | |
| Artisan's Pizza Sauce – Pizzeria Style | | | | | | | x | |
| Old World Pizza Sauce – Neapolitan Style | | | | | | | x | |
| Fully Prepared Pizza Sauce | | | | x | x | x | x | |
| Smooth Marinara | | | | x | x | x | | |
| Chunky Marinara | | | | x | x | x | x | |
| Tomato Paste 24% | x | | x | x | x | x | x | |
| Tomato Puree - 1.06 | | | | x | x | x | x | |
| Pomodoro Dolce – Diced | | | | | | | x | |
| Diced Tomatoes in Juice - 1" | | | | x | x | x | x | |
| Diced Tomatoes in Juice - 3/4" | | | | x | x | x | x | |
| Petite Diced Tomatoes in Juice | | | | x | x | x | x | |
| Italian Diced Tomatoes in Juice | | | | x | x | | | |
| Fire Roasted Diced Tomatoes in Juice | | | | x | x | x | x | |
| Fire Roasted Salsa | | | | x | x | x | x | |
| ORGANIC Fire Roasted Diced Tomatoes in Juice | | | | x | x | x | | |
| Sun Dried Tomato Halves | | | | | | | | x |
| Sun Dried Tomato Julienne Cut | | | | | | | | x |
In addition to traditional tomato ingredient products, we also offer: