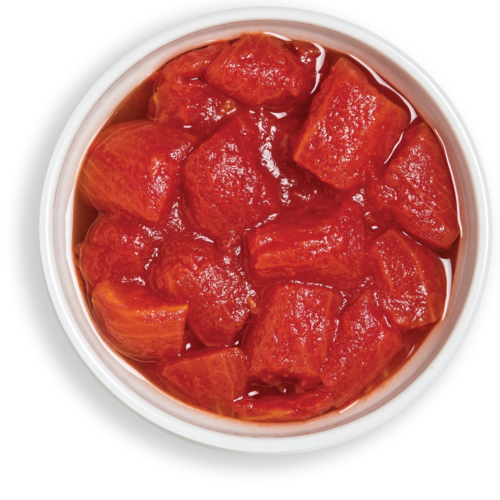 Red, ripe tomatoes are washed, sorted, peeled, and diced. The tomatoes are then aseptically processed. The processed tomatoes in juice are filled into an aseptic bag. The diced tomatoes in juice shall be processed in accordance with good manufacturing practices. The product shall conform in every respect to the provisions set forth under the Federal Food, Drug and Cosmetic Act, and shall meet the standards established by the California Department of Food and Agriculture unless otherwise specified below.
Chemical and Physical (at time of pack)
Measure
With Calcium
Without Calcium
Description
Flavor and Odor:
+ (1)
+ (1)
(1) Typical tomato flavor & aroma; no off flavors.
Color:
+ (2)
+ (2)
(2) Typical red for canned tomatoes; no vivid green.
pH
4.00 ± 0.40
4.00 ± 0.40
Character:
+ (3)
As found
(3) Firm, good definition.
Defects:
Grade C or better
As found
Drained Weight:
63% or better
As found
Calcium:
200 – 1400ppm
As found
Total Acid:
0.30% – 0.70% (4)
0.30% – 0.70% (4)
(4) Based on citric acid titration.
Cut Size & Product Code:
½x½x½=444J (5)
¾x¾x¾=666J (5)
⅜x½x⅜=343J (5)
½x½x½=444JNC (5)
¾x¾x¾=666JNC (5)
⅜x½x⅜=343JNC (5)
(5) Cut size as per customer requirements.
Microbiological Specification
Meets CFR Title 21 requirements for commercial sterility.
Microanalytical Specification
Storage
The product is to be kept from freezing and not stored at temperatures above 110 F.