Working directly with seed companies to provide the best genetic solutions for our customers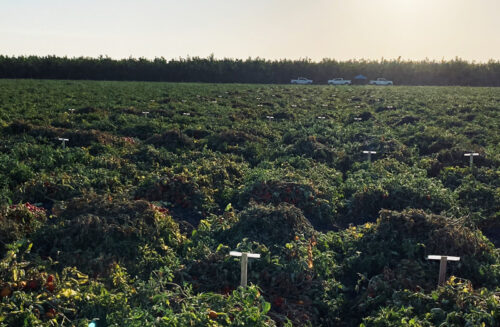 Morning Stars' tomato ingredient products begin their journey in the field. Every tomato variety has different characteristics that play a large role in exactly what type of product we are making; from whole peeled tomatoes to paste for ketchup, there is a tomato variety bred explicitly for that purpose.
Historically, individual seed companies and 3rd party seed distributors have been the only ones to do variety trialing. Morning Star has relied on that unbiased, data-driven information to help make decisions. Though we now still actively rely on 3rd party information, there remains a significant gap connecting us directly with each individual seed supplier.
To better support our efforts to work directly with seed suppliers and to provide the best genetic solutions for our customers, Morning Star established its Variety Trialing Program in 2018.
The mission of the variety trialing program is to provide accurate and timely information about the quality of tomato varieties to our factories and our partner seed companies. We accomplish this through statewide trialing efforts that generate variety-performance information from all our growing areas in California.
Seed companies benefit greatly from partnering with Morning Star through better and more accurate trend/product information, ensuring varieties are bred to more closely fit our factory's requirements. Essentially, we can hand over a road map to tomato breeders so they can be as targeted as possible in their variety selections. One breeder said, "We are now much closer to Morning Star. We better understand their needs and can truly breed for their future requirements. It's a powerful mix of short-term communication on immediate goals and uses and the long-term vision for new varieties with improved peeling, slicing, and viscosity features."
We also look at how each variety performs in the field. Whether a visual inspection or a measurement of yield, the trialing program aims to identify which varieties perform well in the factory and are also reliable, sustainable, and cost-effective for the grower. Before selecting a variety for the factories, it is trialed at various levels to ensure optimal field performance.
Since day one, Morning Star has broken many preconceived notions of what it means to be a tomato ingredient supplier. We moved beyond the factory long ago and recognized the importance of our involvement in all parts of the tomato's journey, doing our part to create a sustainable future for our industry while ensuring we consistently meet our customer's expectations and specification targets.
###

Morning Star Newsletter now distributed electronically
As a reminder, Morning Star is now distributing our newsletters electronically using an email distribution vendor called Mailchimp. Your e-version will now include informative Morning Star videos and highlights. Depending on your company's firewall, these emails may initially be directed to you spam folder.