Conversion Note: 1 metric ton = 1.102 short tons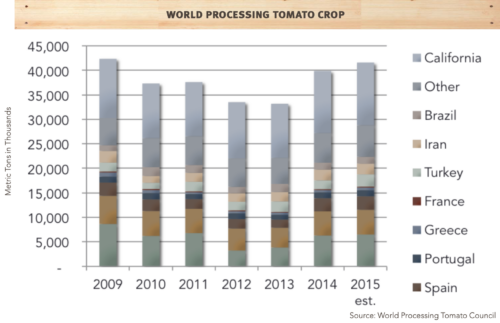 After several years of below average volume, the world's tomato crop expects a second year of recovery in response to a more balanced supply position after global excesses in 2009. The processing tomato crop around the world is expected to increase by 4.4% to 41.602 million metric tons.
Additionally, a strong dollar is making regional tomato products more affordable. Removing California's large crop, internationally 28.8 million MT of tomatoes are forecasted to be grown, up 5.9% from last year, according to the World Processing Tomato Council's April report.
CHINA
China is the wild card in this forecast, expecting a 6.5 million MT crop, an increase of 2.8% from last year. The increase in volume is likely driven by falling raw tomato prices.
Chinese processors must be careful not to over-produce. The May issue of Tomato News has a comprehensive overview of the challenges facing the Chinese tomato industry and its past volatility. In the article, Cofco TunHe executives publicly expressed their sentiment that "a harvest of more than 6 million tonnes this year in China would damage the industry, and aggravate market conditions, which are already difficult."
EUROPEAN UNION 5
The tomato crop from the five European Union countries that grow tomatoes is predicted to increase 3.3% to 9.8 million MT. Field prices of tomatoes are about the same as 2014.
Italy produces the lion's share of the European crop at 5.05 million MT, up 2.2% this summer. Spain expects to process a tomato crop similar in volume to last year at 2.7 million MT.
Portugal's growers plan for 1.25 million MT, an increase of 4.4% from the previous season, while France hopes to increase production 8.4% to 194,000 MT. Greece's forecast of 520,000 MT is a 10.6% increase over 2014.
TURKEY
Jumping on the export opportunity bandwagon, Turkey forecasts a 39% increase in volume to 2.5 million MT, potentially producing 6% of the world's 2015 tomato crop.

Morning Star Newsletter now distributed electronically
As a reminder, Morning Star is now distributing our newsletters electronically using an email distribution vendor called Mailchimp. Your e-version will now include informative Morning Star videos and highlights. Depending on your company's firewall, these emails may initially be directed to you spam folder.