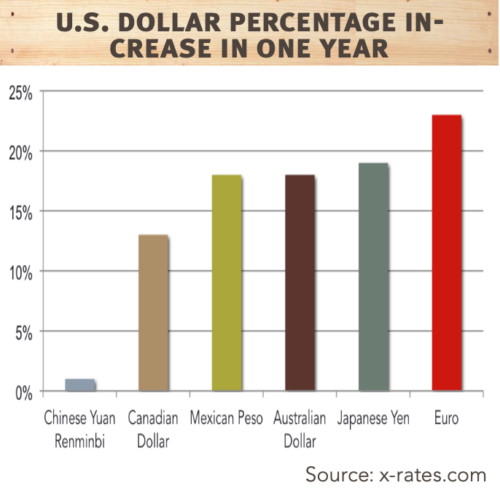 Export demand for tomato paste from the United States has softened in recent months. The lagging movement is driven by union strife in West Coast ports which hampered shipments and a rising dollar unfavorable for exports. Although still strong, U.S. paste exports are not shipping out at the same rate as last year. As a result, cumulative paste exports have fallen off 12% from July to March (see graph).
Beginning in October, labor issues with longshoremen at West Coast ports caused shipping delays of tomato paste and other products. By November, shipments of tomato paste fell below the previous year's level, as shown in the graph. In February, dock efficiency began improving after a tentative agreement was reached, and by March, exports of paste showed some recovery.
But paste exports are not expected to reach last year's high volumes, as a strong dollar makes exports, including U.S. paste, more expensive to our international customers. Since last year, the U.S. dollar has risen 12 to 23% over other currencies in the bar graph shown. Because of the exchange rates, international customers are finding better buying opportunities in local markets and with countries that have a favorable exchange rate.
International customers have become an important part of the U.S. customer base since 2009, and net exports now make up 25% of tomato products moved from domestic processors' warehouses.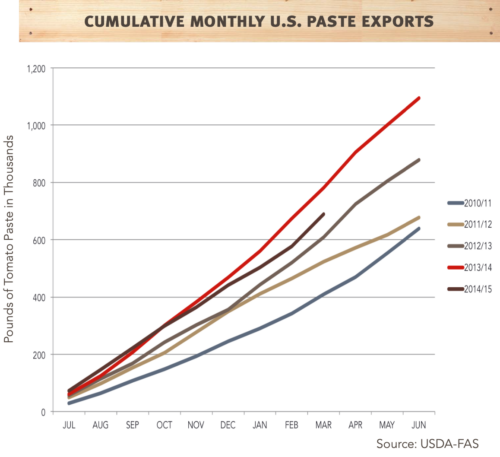 From July 2013 to June 2014, record-breaking volumes of U.S. tomato products were shipped internationally. In the 2013/2014 marketing year, net exports reached record levels of 3.5 million fresh equivalent tons, an increase of 25% above the previous record set just the year before.
So far this year, overall demand for U.S. tomato products is still strong. Despite port delays and exchange rate challenges, this year's export volume of tomato paste is on-track to be the second-best on record. And overall demand for domestic tomato products is running at a record-setting pace for 2014/15 marketing year. U.S. demand, from June 1, 2014 to March 1, 2015, is up 3% over the same period last year, according to the California League of Food Processors' stock report.
Because demand is healthy, supplies are looking balanced for the 2015 season. The steady movement and sensible stock-on-hand will keep the price of tomato paste relatively stable.
But the price of tomato products is heavily influenced by the price of raw tomatoes, and that is unknown. The California Tomato Growers' Association and processors have yet to agree to a "fair price" for raw tomatoes in 2015. Negotiations have dragged on through May. Last year, processors paid growers $83 per ton, plus late season premiums, for tomatoes in the field.

Morning Star Newsletter now distributed electronically
As a reminder, Morning Star is now distributing our newsletters electronically using an email distribution vendor called Mailchimp. Your e-version will now include informative Morning Star videos and highlights. Depending on your company's firewall, these emails may initially be directed to you spam folder.