Supply Chain Challenges: Status and Strategies
As we've all experienced in recent months, logistics problems have impacted the movement of products across the industrial landscape. With established U.S. product shipping modes disrupted, rail has become the most efficient option, followed by intermodal and truck transport.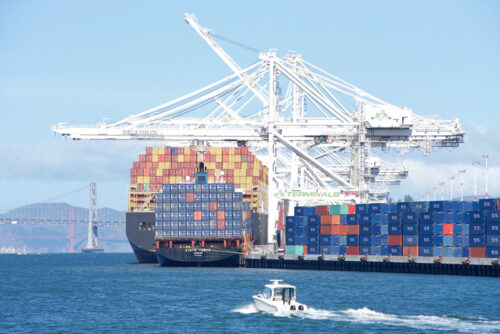 From California, intermodal transport has faced unique problems, with little reprieve in sight. The primary issue is that limited domestic port capacity is being eclipsed by ocean containers cross-docking there to boost their own efficiencies. This encroachment is compounded by chaise limitations at these ramps, creating further delays and making truck direct a more reliable domestic option.
Rail transport problems are not going unnoticed by consumers or shippers. At April's Urgent Issues in Freight Rail Service hearings in Washington, D.C., the Surface Transportation Board (STB) heard frank and pointed testimony from both railroad and shipper representatives. On the hot seat were four Class I railroads: the BNSF Railway Company, CSX Transportation, Inc., Norfolk Southern Railway Company, and Union Pacific Railroad Company. Testimony was also presented by more than 25 shipper groups, representing every industry.
As STB Board Chairman Martin Oberman shared, "This hearing is not just about where we are but also about where we are going. The Board expects the railroads to explain the actions they will take to fix these issues. The Board will also consider stakeholder views on how it can use its authority – including measures to address emergencies, increase transparency, and promote reliable service – to ameliorate problems on the network."
Especially noteworthy was the participation by Secretary of Transportation Pete Buttigieg, who opened the two-day hearings – the first in this cabinet role to testify in more than 20 years. As he noted, the agriculture industry is being "significantly impacted by the railroad's service delays, especially when it comes to obtaining the necessary amount of fertilizer and chemicals that are critical for the growing season." He asked the STB to expand its data collection to require improvement plans from railroads, and asked the railroads to increase workforce investment, as "turnover is still far above normal levels."
Another key rail challenge is the relationship between congestion and velocity. When cars are added to the network to meet demand, the resulting congestion creates longer transit times – much like a major interstate highway during commute hours. To fine-tune this balance between capacity and speed, one carrier has adopted the strategy of putting some of its boxcars and hoppers into temporary storage. Throttling capacity in this way may present some short-term challenges, which will presumably resolve as the resultant congestion relief reduces turn times.
While closely monitoring the situation, Morning Star is taking a proactive approach to railroad service and car availability. Our diversified strategy and relationships with both Union Pacific and the BNSF Railway allow for rapid decisions as to which carrier can provide the best capacity and efficiency at any given time. Morning Star also addresses the issue with boxcar loading capability at all plant locations.
We will continue to analyze and address these issues to offer viable solutions for the delivery of our quality products to our valued partners nationwide.
_______________________________
North American Rail Statistics 
Carloads – week ending April 30, 2022
Volume up 1.3% versus prior week in 2022.
Five categories saw increases relative to the same week in 2021: chemicals, coal, motor vehicles/parts, nonmetallic minerals, and petroleum/petroleum products.
Three categories saw significant increases over the same period in 2021: coal up 8.2%, nonmetallic minerals up 5.0%, and chemicals up 4.4%.
Velocity – week ending May 4, 2022
Three-week rolling average for Class 1 railroad velocity held steady at 22.7 mph.
Dwell Time – week ending May 4, 2022
Average Class 1 dwell time held steady at 22.6 hours.
Railcars in Storage – as of May 1, 2022
Defined as not having moved while loaded in the previous 60 days and only having moved empty since their last loaded move, 17.3% of railcars were in storage as of this date.
Between April 1 and May 1, 2022, railcars in storage declined by 6,965 cars to 281,809.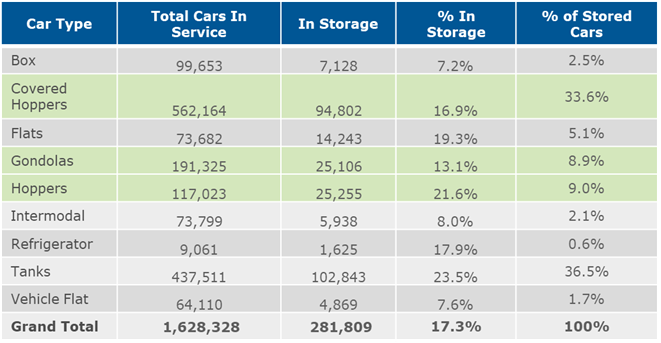 ###

Morning Star Newsletter now distributed electronically
As a reminder, Morning Star is now distributing our newsletters electronically using an email distribution vendor called Mailchimp. Your e-version will now include informative Morning Star videos and highlights. Depending on your company's firewall, these emails may initially be directed to you spam folder.