Conversion Note: 1 metric ton = 1.102 short tons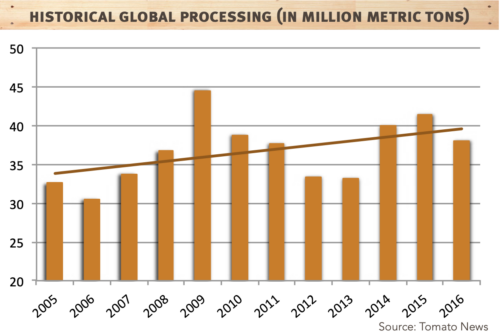 As expected, global processed tomato production in 2016 decreased in volume from 2015 figures. According to the World Processing Tomato Congress, final quantities processed hit 38.047 million metric tonnes (mT), down from 2015 production of 41.374 mT.
The 8% decrease in production reflects the global industry's recognition that inventories are still elevated.
The AMITOM region (Association Méditerranéenne Internationale de la Tomate) led production at 16.03 million mT in 2016. The region's most notable countries, Spain, Italy, and Portugal, had lower production levels than 2015 but finished with 2.95, 5.18, and 1.5 million mT respectively. Both Spain and Portugal suffered from difficult starts to the season because of heavy rains.
Italy produced enough in 2015 to overtake China in volume, becoming the world's second largest country for processing tomatoes. Even though production levels decreased overall, the dynamics within the country shifted, with the northern region increasing production by 6% and the south-central region reducing production by 13%.
NAFTA (North American Free Trade Agreement) countries produced 12.44 million mT, 92% of which was produced by California. California experienced average yields of 48.3 tons/acre (an equivalent of 108.3 tons per hectare). Organic production saw an increase in California, indicating consumers increased demand for organic product. Canada saw a small increase in production from 400 to 456 million mT in 2016.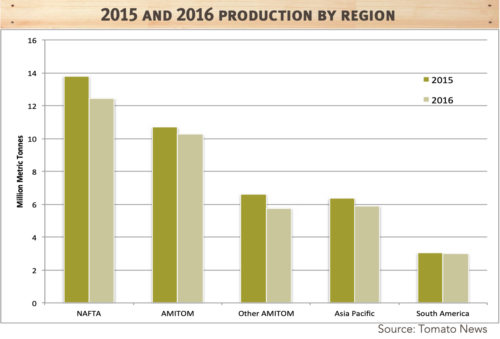 Other AMITOM countries (the largest being Turkey at 2.1 and Iran at 1.15 million mT) saw an overall reduction this season. Turkey's yields suffered due to rain, falling short of their 2.5 million mT initial forecast.
In the Asia Pacific, China's final tonnage fell 8% to 5.15 million mT with an average field yield of 76.4 tons per hectare. Tomato prices in China fell 5% and 12% in Inner Mongolia. According to Tomato News, the losses farmers experienced in the last two years may lead to a decrease in incentive to grow tomatoes in 2017.
In South America, Brazil experienced an increase in production from 1.3 to 1.45 million mT. Weather was consistently good for their planting and processing season; however, similar to California, drought in certain growing regions created a reduction in yields.
South Africa represents a small percentage of total global production, with final volumes coming in at 145,000 mT. Dry weather conditions caused trouble with water quality and availability.
Developments in South Africa indicate some notable changes for the country's production capabilities. Famous Brands (owner of over 2600 fast food outlets in South Africa) has purchased the Cape Concentrates factory and plans to reopen in 2017.
South Africa imports a significant portion of its own country's demand for tomato products, making local production highly attractive. The country currently imports 25,000 mT of paste, 11,000 mT of canned tomatoes, and 2,300 mT of sauces and ketchup.
In an interview with Tomato News, Famous Brand's strategic advisor Kevin Hedderwick explained that "The market is significant." He also indicated that the new factory would supply all of Famous Brand's tomato product needs, reducing the need for imports.
Looking forward, global production in 2017 will likely see another decrease in volumes in an effort to reduce inventories. Early estimated global production for 2017 is just over 38 million mT. Processors are currently finalizing their pack plans and growing intentions, keeping an eye on the current economic conditions.

Morning Star Newsletter now distributed electronically
As a reminder, Morning Star is now distributing our newsletters electronically using an email distribution vendor called Mailchimp. Your e-version will now include informative Morning Star videos and highlights. Depending on your company's firewall, these emails may initially be directed to you spam folder.