Organic production on the rise, increasing by 57%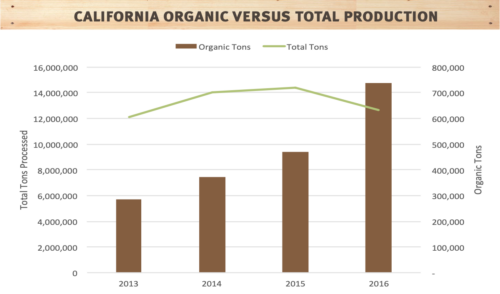 The California processed tomato market in 2016 saw a significant decrease in total production by over 1.7 million tons from 2015. Final production numbers came in at 12,646,979 tons being processed compared to 2015's final number of 14,361,188.
While overall production decreased, organic production increased at an impressive rate of 57%, up from 469,864 tons in 2015 to 736,816 tons in 2016. The question is: will the trend in consumer demand for organics keep up with this level of increased production?
The 2016 growing season had some extremes in terms of weather, particularly in the southern growing regions where weather caused yields to be slightly lower than 2015. Northern California growing regions enjoyed moderate weather and fewer extreme weather events resulting in consistently good production. The increased use of drip irrigation has also allowed the California tomato growers to mitigate extreme heat conditions much better than in the past with furrow/flood irrigation.
Focus for the California agricultural community for 2017 will still be on water availability. Early precipitation in October has suggested a positive outlook with the major basins receiving ranges from 7% to 302% of typical rainfall to date.
Precipitation in the 8-Station Northern Sierra has been above normal and San Joaquin precipitation is close to normal. Due to regulations, rainfall would have to continue to increase in order for farmers south of the Delta area (in Federal Districts) to receive more than the 5% allocation that was distributed in 2016. Fresno, which supplies over 30% of the total California raw tonnage, is an area that received their 5% allocation.
Plenty of water has flowed through the Delta area this year, but unfortunately not much has been able to reach the farms. In the period from October 1, 2015 to October 24, 2016, 70.9% of the inflow to the Delta totaling 16,395,100 acre feet has gone out to the ocean rather than pumped into the California Aqueduct and Delta Mendota Canal to service cities and farms.
Pumping restrictions due to environmental concerns continue to affect growers in California. New attention is now being paid to groundwater as well. In compliance
with the Sustainable Groundwater Management Act of 2014 (SGMA), legislation that provides groundwater sustainability throughout California, local stakeholders will have until 2017 to organize themselves in Groundwater Sustainability Agencies. Groundwater Sustainability Plans will have to be in place and implementation initiated between 2020 and 2022 with groundwater sustainability achieved by 2040. This plan to lay out groundwater sustainability in California could greatly impact the number of acres currently farmed in California using groundwater supply.
Intentions for 2017 are not yet known, but with the global processed tomato market in a surplus inventory year, we may continue to see production levels decrease in order to balance the market.

Morning Star Newsletter now distributed electronically
As a reminder, Morning Star is now distributing our newsletters electronically using an email distribution vendor called Mailchimp. Your e-version will now include informative Morning Star videos and highlights. Depending on your company's firewall, these emails may initially be directed to you spam folder.