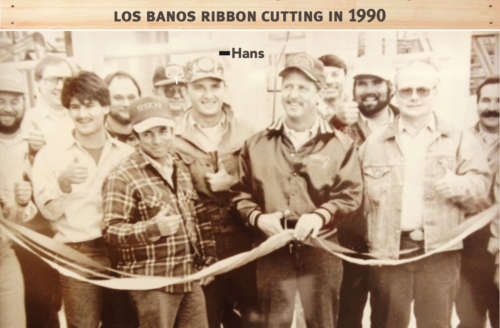 Hans Younce has been a part of Morning Star since its inception 26 years ago. Even longer than that, he has known owner and founder Chris Rufer since his days at Ingomar Packing prior to Morning Star – Los Banos being built. He first learned about Morning Star while working at Ingomar but explains, "Chris was branching off to start something new and exciting, and I thought that sounded fun."
As a colleague charged with the mission of running the evaporators, Hans can typically be found in the control room at our Los Banos facility. Initially drawn to Morning Star by its environment that supports the opportunity to improve and grow personally and professionally, Hans has been a long-time colleague because of Morning Star's ability to be "innovative, evolving, and cutting-edge."
Before entering the tomato industry, Hans worked at the Little Poso Goat Dairy in Dos Palos, digging ditches, milking goats, hauling hay, and doing all kinds of work around the dairy. The perks? "The owners let me fill my '62 VW Bug with gas for free!"
Hans then joined the U.S. Navy after graduating from Dos Palos High School, much to the chagrin of his father. While in the Navy, he learned a great deal about steam plants while working in engineering. As Hans recalls, "I also had a hell of a lot of fun traveling around the world."
He met his wife Sue and promptly left the Navy to join the tomato game. Hans and Sue have two daughters, Katie (25) and Kelly (21). Katie is a nurse in San Luis Obispo and is engaged to be married and Kelly is a senior at Cal Poly with plans to become a teacher. Hans proudly says, "We have two smart, beautiful daughters who know a lot about tomato processing and self- management. They grew up 'Morning Star.'"
In his spare time, Hans enjoys duck hunting, fishing, and baseball. He's a big Clint Eastwood fan, his favorites being "The Good, The Bad, and The Ugly," "The Outlaw Josey Wales," and "Dirty Harry." He also loves chess strategy books and can beat his own computer at chess!
Always armed with a sharp wit, he also has his own, personal set of business cards that read "Hans the Magic Clown. And Taxidermist." After 26 years at Morning Star, having a sense of humor is as essential as Hans's favorite book, "Machinery Shaft Alignment."  Speaking candidly about his years at Morning Star, Hans explains, "It is challenging to always be the best. Good is not enough. Striving for perfection is a difficult road to travel." Hans has witnessed remarkable growth in our Los Banos factory as well as expansions, new construction, and acquisitions that have led Morning Star to become the largest tomato processor in the world.
Hans plans on retiring in the next 5 or so years, at which point he's looking forward to visiting most of the major league ballparks around the United States.

Morning Star Newsletter now distributed electronically
As a reminder, Morning Star is now distributing our newsletters electronically using an email distribution vendor called Mailchimp. Your e-version will now include informative Morning Star videos and highlights. Depending on your company's firewall, these emails may initially be directed to you spam folder.