Conversion Note: 1 metric ton = 1.102 short tons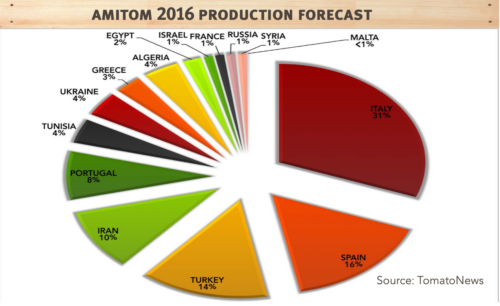 Estimates for the 2016 AMITOM processed tomato crop were originally expected to be 300,000 metric tons less than last year with planned tonnage at 17.1 million metric tons (18.8 million short tons) in February. Due to adverse weather conditions, new estimates for the 15 AMITOM countries look to be closer to 16.3 million metric tons (mT).
Growing areas around the world have been affected in one way or another by weather issues. The EU, which includes some AMITOM countries, is expecting 9.9 million mT in 2016, an 11% drop in their processing compared to 2015.
Italy, the largest of the AMITOM countries, experienced some cool weather accompanied by numerous rainstorms in May that caused issues with planting in the North. Total planting areas have been reduced by 5%, but Italy still supports their estimate of 2.5 million mT for Northern production. Southern Italy has had better luck with planting and, while planting areas have been reduced by amitom 2016 production forecast 10%, forecasts for the Southern region is 2.5 million mT as well.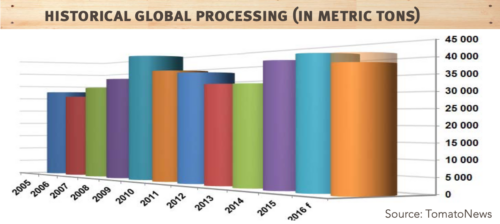 Spain has also fought with weather, getting significant rainfall in April and May that interrupted planting for 15 days. Spain expects a late crop as well as gaps in raw tomato harvesting. The volumes estimated for Spain are around 2.6 million mT.
Turkey has been fortunate with weather; however, crop estimates are 15-20% lower than last year at approximately 2.3 million mT.
Portugal, while experiencing a wet and cold spring, has fought through and finished half of their planting around May 25th.
China is expected to contribute 5 million mT of production this year, marginally lower than the original 5.4 million mT forecast.
Including the AMITOM, total global forecast is 38.1 million mT for 2016.

Morning Star Newsletter now distributed electronically
As a reminder, Morning Star is now distributing our newsletters electronically using an email distribution vendor called Mailchimp. Your e-version will now include informative Morning Star videos and highlights. Depending on your company's firewall, these emails may initially be directed to you spam folder.