Processors contract for 13 million tons according to May intentions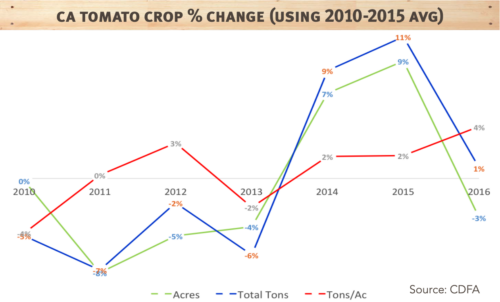 May intentions, recently released by the California Department of Agriculture, show that California's tomato processors reported that they intend to contract 13 million tons from 262,000 acres this season. This number represents an 11.8% decrease from last year's final contracted acreage. Contracted production per acre is 49.6 tons/acre, a 1.5 tons/acre increase over the 5-year average and 1.1 tons/acre higher than the prior two years.
Water and Curly Top virus concerns continue to be the most prominent obstacles to reaching contracted tonnage goals.
In northern California, transplanting in wetter conditions impacts yields negatively due to soil compaction. While rains helped fill northern reservoirs and provide water flow for rivers, the southern part of the growing region still has reduced water supply in areas where Federal districts control supply. In these areas, farmers are relying on groundwater pumping.
Environmental restrictions did not allow for the 2016 year to see adequate pumping levels. While total inflows between October 1, 2015 and May 31, 2016 reached over 11 million acre feet, only 1.5 million acre feet were allowed to be pumped by the Federal and State pumps. Approximately 85% of the water is flowing out to the ocean, a number that continues to increase.
Curtailed pumping remains the primary reason for low water levels in the San Luis Reservoir, despite a good rainfall season. Fresno County, the largest processing tomato county in California is serviced by the Federal Westland Water District. The State Water Project allocation at 60% has improved over the prior year allocation of 20% and Exchange Contractors located in the Los Banos/Firebaugh area are now receiving a 100% allocation this year.
Generally speaking, the 2016 crop looks promising. Heat, cold, disease, rain, water availability, transplant quality, and a multitude of other factors affect the final production and subsequent yields.
While rainfall was promising in recent months, California has also experienced some extreme weather. Some areas in early May were damaged by a storm that brought hail and nearly 5 inches of rain. Heat presented another challenge, hitting higher marks and indicating a potential early season.
Transplanting concluded in May with only a few isolated fields planted in June. Finishing transplanting early this year was positive due to the high heat encountered during the last week of May and first week of June. This almost record-breaking heat would have made it very difficult to establish a tomato stand due to high soil temperatures.
The question remains: will California reach its goal of 13 million tons? With higher heat forecasted for the summer, farmers will be challenged to meet yield targets of nearly 50 tons/acre.
Organic tonnage has grown as a percentage of the total 2016 crop as a result of increased demand for finished organic products. Yields for organic tomatoes are normally 20% below that of conventional tomatoes and will put additional pressure on the tons per acre target.
The positive indicator for yield is a September finish for processors. While the planting season was interrupted by rain, wind, and heat, this did not extend into late plantings.
Few diseases were present this planting season; however, the Curly Top virus did make an appearance with a grower alert issued in early May by the Control Program. Some fields were affected but appear to be the exception rather than the rule.
All things considered, the 2016 season will be yet another challenge for our highly productive and resilient processed tomato growers; however, we are off to a pretty good start with a successful transplanting period and a better supply of water this year.

Morning Star Newsletter now distributed electronically
As a reminder, Morning Star is now distributing our newsletters electronically using an email distribution vendor called Mailchimp. Your e-version will now include informative Morning Star videos and highlights. Depending on your company's firewall, these emails may initially be directed to you spam folder.