Conversion Note: 1 metric ton = 1.102 short tons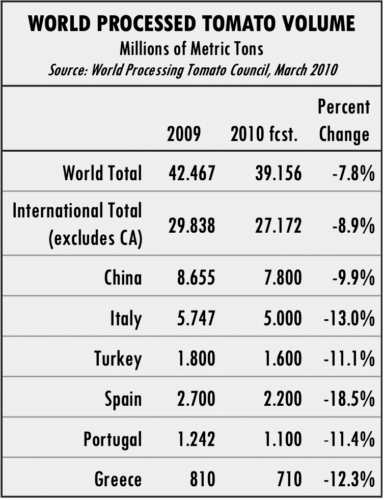 After packing a record 42.5 million metric ton crop in 2009, global forecasts are 7.8% less for 2010. The World Processing Tomato Council expects the 2010 crop to be about 39.2 million MT, which is still 4% above the three year average.
Removing California's zeal‐ ous forecast leaves an even greater drop of 8.9% in international production. Outside California, countries expect to pack 27.2 million MT. Although less than last year, it's still 5% above the 3 year average.
China, the world's second largest producer, expects to decrease production 10% to 7.8 million MT. Last year the country reached record production of 8.7 million MT.
Unlike the rest of the major tomato growing regions, China's packers are paying more for tomatoes this year than last. Tomatoes are competing for land with cotton and sugar beets, driving up prices $2 per MT, to $56 for 2010.
In Europe, processors are drop‐ ping their demands for tomatoes and the price. Italy's production is forecast for 13% less to 5 million MT. The price of tomatoes for paste has fallen 12% in Italy.
Heavy rains assaulted Italy and growers struggle to prepare their fields and transplant seedlings. In the south, planting has been delayed 7‐10 days.
Spain's forecasts are down 19%, to 2.2 million MT. Planting has been delayed two weeks due to rain.
On February 27th, a powerful 8.8 earthquake destroyed some of Chile's 2009 and early 2010 tomato stocks. Tomato News reported that Chile's 2010 pack is now expected to fall below forecasts, but on par with 2009. Losses could have been even worse, but a cold spring delayed the harvest by two weeks so packers hadn't gotten as much stock into their warehouses as normal.

Morning Star Newsletter now distributed electronically
As a reminder, Morning Star is now distributing our newsletters electronically using an email distribution vendor called Mailchimp. Your e-version will now include informative Morning Star videos and highlights. Depending on your company's firewall, these emails may initially be directed to you spam folder.