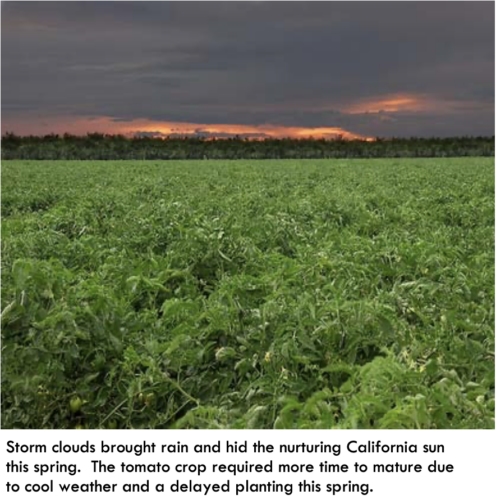 The famous, nurturing California sun has been shy this growing season. Instead, rain and snow storms replenished water supplies and pulled California out of its multi‐year drought.
The moisture and clouds delayed everything from tomato field preparations to plant growth. Additionally, diseases, like Bacterial Speck, flourish in the damp conditions. Growers must proactively apply sprays to combat diseases.
As a result, the fields have not matured on schedule, and the beginning of the harvest was pushed back a couple of weeks into the middle of July.
Oddly, growers and packers are not all that concerned about the less than ideal conditions. It looks a lot like last year they say.
Last year's crop started two weeks behind schedule and still managed to meet forecasts and produce record-breaking field yields over 45 tons per acre.
A delayed start means the crop size depends greatly on how long the season stretches into the fall. If September and October are mild and dry, as they have been over the last five years, then the crop should perform very well.
Currently, California's crop is forecast at 12.2 million tons according to the NASS/USDA California Processing Tomato Report released May 27. The forecast is down slightly from January's 12.6 million ton estimate.
The forecast dropped partly due to weather, but economics played a hand in the decrease. Global shortages of corn and cotton inflated the prices of those crops. Growers saw the profit opportunity and chose to plant corn and cotton instead of tomatoes.
Additionally, packers cut back their contracts with growers as fuel and fertilizer prices spiked which pushed up the field price for tomatoes. As of July 6, all packers signed contracts at $68 per ton, which was an unanticipated 4.6% rise from the 2010 price of $65 per ton.

Morning Star Newsletter now distributed electronically
As a reminder, Morning Star is now distributing our newsletters electronically using an email distribution vendor called Mailchimp. Your e-version will now include informative Morning Star videos and highlights. Depending on your company's firewall, these emails may initially be directed to you spam folder.