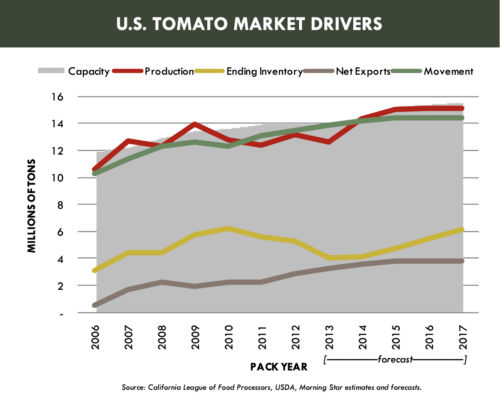 Over the next few years, Morning Star expects to add 700 tons per hour (TPH) to its operations. For the 2014 season Liberty is getting an additional 200 TPH of capacity and Williams will grow by 500 TPH in following seasons.
With this expansion and capacity likely added by other processors, Morning Star anticipates statewide capacity to outstrip demand by 2016, putting the industry into a surplus situation again.
The surplus benefits our customers' profitability by keeping tomato paste prices low, as long as the price of raw tomatoes stays reasonable.

Morning Star Newsletter now distributed electronically
As a reminder, Morning Star is now distributing our newsletters electronically using an email distribution vendor called Mailchimp. Your e-version will now include informative Morning Star videos and highlights. Depending on your company's firewall, these emails may initially be directed to you spam folder.