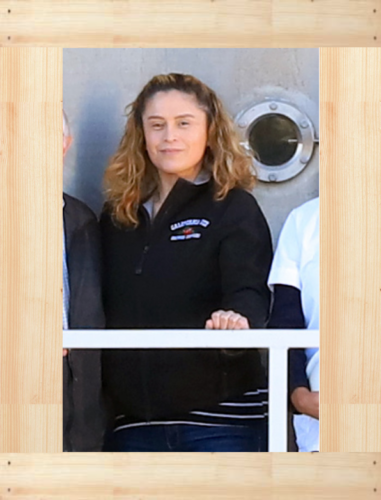 Tara's Mission at Morning Star is ensuring that colleagues achieve the most positive and productive experiences with Self-Management by actively training and working with colleagues to build human resources that they will be able to utilize to achieve their own personal commercial missions.
How did you first learn about Morning Star?
I was actually working for a company that Morning Star acquired. When I interviewed for a position at Morning Star, I remember speaking with (CFO) Tim Cruise and Mark De La Mater and thinking they were two of the smartest people I'd ever met! I was fortunate enough to continue working with them.
Before working at Morning Star, what was the most unusual or interesting job you've ever had?
When I was going to school, there was a senior citizen community across from my apartment and I noticed that many of the people that lived in that community had animals but were unable to walk them. I recruited a few friends and we volunteered to walk the dogs during the evenings and weekends. There were three of us and we ended up doing this for two years. After I wasn't able to be a part of this, I recruited a new group of people to take over. So many people offered to pay us for our services but just knowing that we were making a little difference was all we cared about.
What are 3 words to describe Morning Star?
Strong, Innovative, Knowledgeable
What drew you to Morning Star originally?
The people drew me to Morning Star. I met many people while interviewing for my job and was impressed by how intelligent and hard-working everyone was.
What do you find most challenging at Morning Star?
I don't know if I'd use the word "challenging" but because Morning Star offers you so many opportunities to get involved with so many different areas, sometimes people find it difficult to balance. I always say that I think Morning Star makes you better because there is such an abundance of knowledge and opportunities available to our colleagues. I was telling someone a while back that I still talk to a few people who have moved on from Morning Star and they all say they are better because of their experiences here.
What is on your wish list for the next 10 years?
I would like to buy some real estate in Northern California.
Tell me about your family.
I have two children, my son is 19 and my daughter is 18. They are both Geminis so they are outspoken for sure! My daughter currently attends UC Merced and my son works in the hotel industry while attending San Jose State University.
Tell me about your previous work experience.
When I graduated from high school, I started going to Modesto Junior College and also worked as an EMT for Patterson District Ambulance. I worked as an EMT for a couple of years then started dispatching for AMR Ambulance. From there, I found a job in Riverbank with Sun Garden Gangi as a seasonal EMT and worked there for two seasons before Morning Star purchased the business.
People would be surprised if they knew ________________ about you.
I just recently went Vegan!
What do you like to do in your spare time?
I don't always have a lot of free time but I really enjoy anything outdoors.
What is your favorite book(s)?
Favorite books: The Four Agreements, by Don Miguel Ruiz and Liver Rescue by Anthony Williams. I enjoy those types of books, I'm weird like that!
What's on your bucket list?
I would love to visit Kruger National Park.

Morning Star Newsletter now distributed electronically
As a reminder, Morning Star is now distributing our newsletters electronically using an email distribution vendor called Mailchimp. Your e-version will now include informative Morning Star videos and highlights. Depending on your company's firewall, these emails may initially be directed to you spam folder.