Amid severe drought, California organic tons exceed 2020 totals
As we head into August, processing tomato harvesting in California is well underway. Approximately 2.3 million tons have been harvested to date, closely resembling 2020's harvesting curve.
Of particular note, the organic deliveries are over 100,000 tons higher than this time last year. If the remaining 2021 deliveries track close to last year's, we can expect season totals greater than 600,000 tons, nearly 75,000 tons higher than 2020.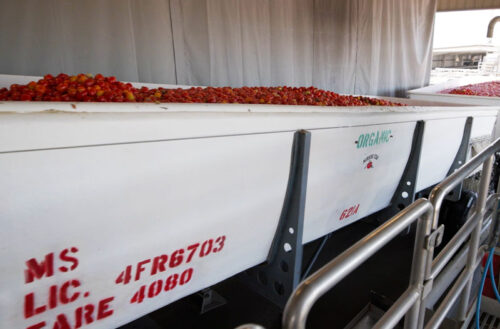 One looming question still hangs over us: what will 2021's final tons for California processing tomatoes be? With two months left in the season, it's still too early to tell. Some early-season southern growers have observed a decrease of a few tons per acre compared to their 2020 crop, while others have experienced personal record yields. There are a few key influencing factors that will affect the outcome of our 2021 California tomato crop.
Planted and harvested acres are of importance. The USDA's National Agricultural Statistics Service's (NASS) May report listed contracted acreage at 231,000, 9,000 acres less than the January report and 3,000 acres less than 2020 planted acres. High heat in the late spring made transplanting challenging, possibly leading to growers abandoning some acres. We won't know for sure until the late August NASS report comes out. A lack of available water and changing water restrictions may have also caused growers to reduce acres out of fear of having nothing to spare in their water budget.
In the north, Yolo County lost a few acres to quarantine due to the presence of broomrape (Orobanche), classed as an "A" pest, an organism of known economic importance, subject to state-enforced action. Various groups are expending tremendous effort to create protocols to prevent further spread and eradicate it. Our own California Sun Grower Services harvesting team already has strict sanitation procedures to help prevent the spread of pests from one field to another.
This season, California has experienced above-average temperatures of over 100 °F with additional 100 °F+ days in the forecast. Most transplants have handled the heat well, with some growers experiencing record high yields. There appears to be more significant variance from field to field and from grower to grower than in past years, which may be attributable to the heat, quantity and quality of the water supply, or a combination of both factors.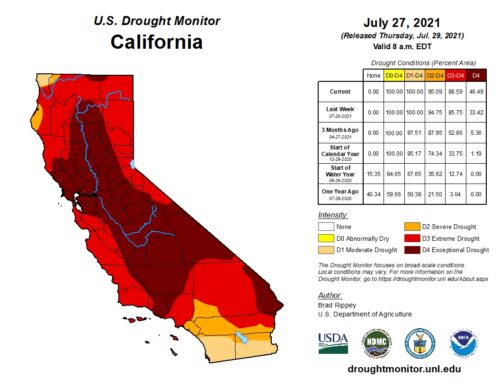 The drought monitor map, as shown in the graph below, is back in the news. A good portion of California now rates in the "Exceptional Drought" level, reflected by the dark red area.
With water allocations being low to non-existent, growers have had to resort to using more groundwater supply to substitute surface water. Groundwater, in some cases, does not have the same quality as surface water and does not allow the plant to flourish or produce the same yield.  Also, scheduling water becomes more difficult with the constraint of well water output in extreme heat conditions.  California farmers needing to resort to groundwater for their crops comes at a bad time as the long-term California sustainable groundwater management program (SGMA) becomes more active in restricting groundwater pumping.
Despite labor being on the short side since Covid 19 first appeared, the 2021 season harvesting and transplanting schedules have not been affected.
It would be optimistic at this point to expect the previously forecasted 11.6 million tons, considering fewer acres were planted this year than last year. Our factories may operate well into October if late-season conditions lean in our favor.

Morning Star Newsletter now distributed electronically
As a reminder, Morning Star is now distributing our newsletters electronically using an email distribution vendor called Mailchimp. Your e-version will now include informative Morning Star videos and highlights. Depending on your company's firewall, these emails may initially be directed to you spam folder.