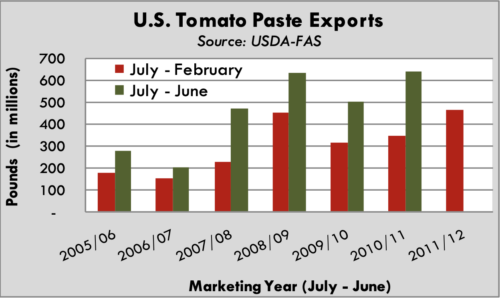 At the end of last season, all indications were that California packers would need fewer tomatoes in 2012. It appeared that although demand was strong, stocks were very high so processors would want to balance supply by packing fewer tomatoes.
But things changed over the winter, and California expects to pack its second-largest crop ever. Demand is moving at record levels and a forecasted decrease in the international crop opens doors for the United States.
Disappearance out of United States' warehouses from June 1 ‐ March 1 is up 7.9% over the same period last year. At 10.027 million fresh equivalent tons, movement of processing tomatoes is at record levels, according to the California League of Food Processors. This current 9 month movement is 2.4% greater than the prior record set in 08/09 marketing year, when
exports grew rapidly with a favorable exchange rate.
This record-setting disappearance has shrunk stocks of U.S. processing tomato products by 6.5% from last year.
Exports continue to drive the de‐ mand for U.S. tomato paste. Ex‐ ports from July‐February are 36% ahead of the same period last year and 3.4% ahead of the previous record set during the 2008/09.
As mentioned on the prior page, production outside California is forecast to fall 10% in 2012. As the major paste exporting countries of China and Italy decrease their production by 25% and 12% respectively, opportunities for U.S. paste should continue to arise.
Given the growing demand, California processors expect strong movement of their high‐quality product to continue.

Morning Star Newsletter now distributed electronically
As a reminder, Morning Star is now distributing our newsletters electronically using an email distribution vendor called Mailchimp. Your e-version will now include informative Morning Star videos and highlights. Depending on your company's firewall, these emails may initially be directed to you spam folder.