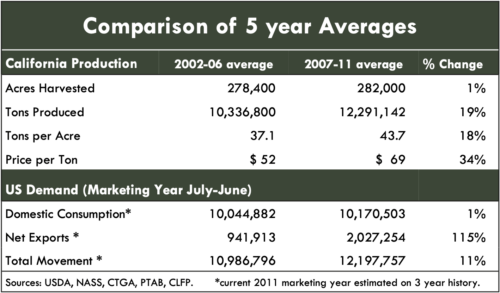 Shrinking processing margins signal that California packers may contract for fewer tomatoes next season.
On October 27th, the USDA released a report noting that the price of 31% paste in bins "retreated with the harvest." According to the Vegetables and Melons Outlook (VGS‐347), the price fell 8% from 36¢ per pound in July and dropped 10% from 37¢ a year ago. Since the cost of raw tomatoes increased 5% from a year ago, some processor margins are "being squeezed," notes the report.
This drop in paste price, on the heels of higher costs and a short crop, is a telling sign that some processors have full warehouses and should con-tract for fewer tomatoes in the upcoming 2012 season to balance supply.
To get fewer tomatoes, fewer acres will be planted. Field yields are so high, that acreage, already at 10 year lows, will need to drop even further in 2012.
Improved horticulture practices and variety selection have made growers more productive on the same area of land. Since 2007, growers have invested heavily in drip irrigation. The subsurface watering improves yields by 3‐10 tons per acre depending on the land. Changing the width of the beds used for planting and selecting hardy and productive tomato varieties also increased yields.
As a result, growers averaged 43.7 tons per acre from 2007‐2011, 18% more than the 37.1 average yield from 2002‐2006. Harvesting 6.6 more tons per acre means each acre produces an extra 1/4 of a load and an additional 3/4 of a bin of 31% paste. This adds up.
California packers wanted more product. Demand for United States tomato products has grown 11% over the prior 5 year average. International demand is driving this trend.
The growth in exports comes from favorable exchange rates (a weak dollar) and higher raw tomato costs in the European Union from the removal of tomato specific subsidies for farmers. It's shifted the US from a relatively minor player in global exports to the third largest exporter in 2010 behind China and Italy. (See our July newsletter for graph.)
In their eagerness to keep up with growing exports, packers contracted for the same average acreage as in the past, but did not adjust to the ever-increasing field yields. Simply put, productivity in the fields has outstripped the growing demand, creating a surplus.
Soon, packers and growers will begin negotiations for the price of raw tomatoes in 2012. Needing fewer tomatoes, packers should be less willing to pay any premium. Growers, on the other hand, have different economics. Their costs are on par with last year and growers will likely desire a contract price similar to last year's $68 per ton.

Morning Star Newsletter now distributed electronically
As a reminder, Morning Star is now distributing our newsletters electronically using an email distribution vendor called Mailchimp. Your e-version will now include informative Morning Star videos and highlights. Depending on your company's firewall, these emails may initially be directed to you spam folder.