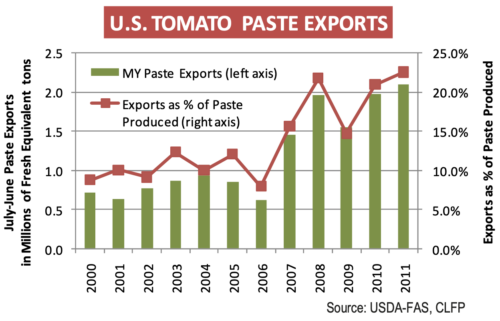 Exports have become increasingly important in driving the demand for California tomato paste. A growing percentage of the domestic pack is delivered outside the United States' boundaries. Last marketing year, export volume hit record levels, and a record 23% of the paste produced in 2011 was exported.
Since 2008, the U.S. has been the 3rd largest exporter in the world, supplanting Spain for that spot. But the U.S. is still just a little guy on the world market when compared to the two leaders, China and Italy.
Even after its biggest export year ever, the U.S. traded one‐third the volume of China and half as much as Italy in 2011. (Source: Tomato News, October 2012)
China is a giant in the tomato paste export market making up 37% of the 3 million MT traded in 2011. To put it in perspective, China traded 38% more paste than Italy last year.
Global paste trade should be interesting to watch next year. For all intents and purposes, China has checked out.
Chalkis, China's second-largest tomato processor, is being forced by a local court to restructure debt or file for bankruptcy. Top management has left in disgrace as bad financial news continues to surface, says a November 3rd Food News story.
With their focus now on long term profitability, Chinese packers have said they won't drop prices to make sales, and since the crop was far below already depressed forecasts, China simply can't offer as much product.
U.S. packers are poised to satisfy some of the gap left by China.

Morning Star Newsletter now distributed electronically
As a reminder, Morning Star is now distributing our newsletters electronically using an email distribution vendor called Mailchimp. Your e-version will now include informative Morning Star videos and highlights. Depending on your company's firewall, these emails may initially be directed to you spam folder.