Conversion Note: 1 metric ton = 1.102 short tons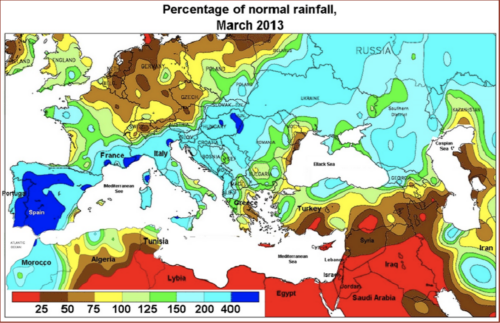 The world crop forecast is at 34.7 million metric tons, according to the World Processing Tomato Council. If achieved, the crop would be 3.7% larger than in 2012.
At 7.4 million metric tons, forecasts for the five European Union tomato producers (Italy, Spain, Portugal, France and Greece) are at 15 year lows.
Italy expects to process 4.1 million MT, an 8.9% decrease from last year. At 1.65 million MT, Spain's forecasts are 14.7% less, while Portugal expects 1.1 million MT, down 7.6% from last year. Expectations in France are 175,000 MT, down 8.9%. Greece, on the other hand, is up 5.1% to 410,000 MT.
Struggling to find economic viability, these countries already planned for less volume, but a wild planting season has further depressed forecasts.
Heavy rains and cold temperatures hampered planting across Europe, but particularly in Northern Italy. Northern Italian growers struggled to get into the fields for proper soil preparation and the soil is likely compacted which will negatively impact yields. As a result of delayed and difficult planting, harvest will begin 3 weeks behind schedule.
At 4.24 million MT, China is forecasting 31% more production than last year, but it's substantially below average. Chinese packers, who have faced years of losses, are attempting to find a production volume that is remunerative. Their recovery will likely be hampered by higher than expected prices for tomatoes. Growers contracted for price increase of 9.6%.
In Turkey, growers are planning to deliver 1.8 million MT of processing tomatoes, up
5.2% from last year. The improvement is a result of better weather. Temperatures have been warm with little rain to disturb planting. Harvesting should begin as normal in mid‐July.

Morning Star Newsletter now distributed electronically
As a reminder, Morning Star is now distributing our newsletters electronically using an email distribution vendor called Mailchimp. Your e-version will now include informative Morning Star videos and highlights. Depending on your company's firewall, these emails may initially be directed to you spam folder.