Conversion Note: 1 metric ton = 1.102 short tons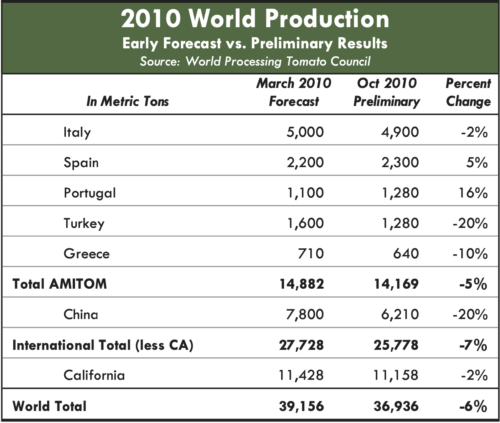 Preliminary results from the World Processing Tomato Council put the global crop at 36.9 million metric tons, down 13% from last year's record and 7% short of preseason expectations.
Globally production was down off the 2009 record crop, but most European countries, like Spain and Italy, managed to exceed or get close to their pre-season goals despite delays and issues with weather.
The big loser for the 2010 pack was China. The country produced 6.2 million MT, a 28% drop from last year and 20% below preseason forecasts.
Costs for China are also up. Before the season began, Chinese growers required a higher price for raw tomatoes, due to favorable margins from competing crops.
A delayed start and cold weather during the season caused tomato yields to fall, and a raw tomato shortage forced packers to pay even more for tomatoes during the season.
Turkey also failed to reach its preseason expectations. The country was only able to pack 1.28 million MT or 80% of its preseason forecasts. Turkey's 2010 crop was 29% below the county's 3‐year average productions.

Morning Star Newsletter now distributed electronically
As a reminder, Morning Star is now distributing our newsletters electronically using an email distribution vendor called Mailchimp. Your e-version will now include informative Morning Star videos and highlights. Depending on your company's firewall, these emails may initially be directed to you spam folder.