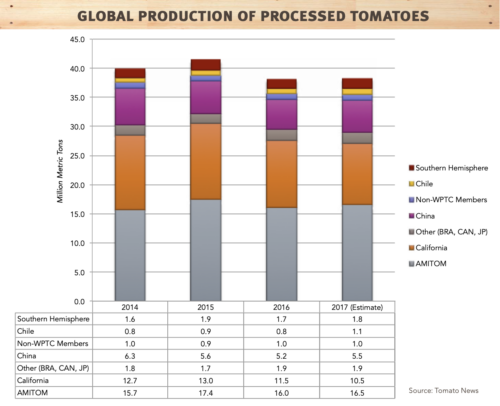 Estimates have begun rolling in for production levels in 2017. The AMITOM (Mediterranean Association of Tomato Processors) should come in as the leading group at 16.5 million metric tons (mT). Italy leads that production with an estimated 5 million mT for the season and Spain remains the second-largest producer at 3.2 million mT.
While some countries have pulled back production slightly (California estimates a 2017 production of 10.52 million mT, down from 2016's 11.52 million mT), global numbers are level with production in 2016.
Another trend occurring on the international stage is a decrease in price for raw tomato prices worldwide.  According to The World Processing Tomato Council, global averages (in USD/mT) have gone from a high of $98 in 2014 to an estimated $74.8 in 2017.

Morning Star Newsletter now distributed electronically
As a reminder, Morning Star is now distributing our newsletters electronically using an email distribution vendor called Mailchimp. Your e-version will now include informative Morning Star videos and highlights. Depending on your company's firewall, these emails may initially be directed to you spam folder.