Conversion Note: 1 metric ton = 1.102 short tons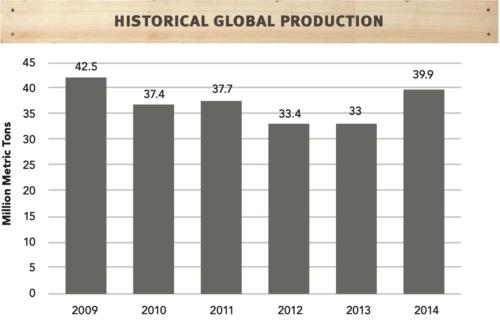 At 39.9 million metric tons (MT), global production exceeded the June 2014 estimates of 39.1 million MT by 2%. The total volume processed in Italy was 4.9 million MT, exceeding the June estimate of 4.8millionMT.TheItaliancrop registered higher numbers than predicted, gaining a 20% increase in production compared to the 2013 crop; however, brix levels were significantly below average.
Despite early October rains that forced factories in Extremadura to close prematurely, the Spanish crop surpassed estimated yields. The perfect weather, up until mid-September, led to record production 2.7 million MT, up from last year's 1.65 million MT. Overall, the Spanish crop ranked as one of the most improved, with a 64% gain in production from 2013.
October 17th marked the end of the Chinesetomatoharvest.  The total quantity processed was estimated to be 6.3 million MT, which exceeded the initial estimates. China very closely rivaled the Spanish crop at a 64% production improvement for 2014. A successful late harvest in Xinjiang and perfect weather in Inner Mongolia gave the extra push that the Chinese season needed. Even though production numbers were positive, the tomato quality suffered overall with excessive green tomatoes.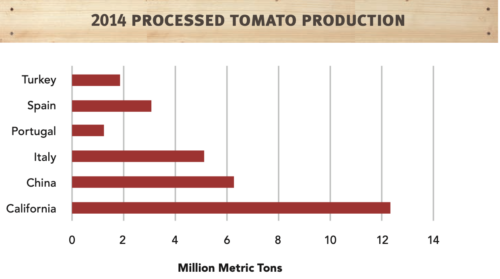 Portugal struggled with the 2014 season, leaving grower contracts short 200,000 MT. With heavy rainfalls from early August to mid-October the country received nearly 40% of its average annual rainfall. Final production came to a total of 1.2 million MT, a 14 % reduction from the forecast.
The Turkish crop had its worst season in over 10 years. The crop total came to 1.8 million MT compared to the estimated 2.3 million MT. Heavy rainfall stunted the harvesting season and caused low brix levels.
Looking to the Southern hemisphere, the country of Chile has an alternate harvesting period, from January to April. The planting season has started and remains in favorable weather conditions. In 2015, the Chilean crop is hoping to reach its harvesting goal of 850,000 MT by April.
All in all, rain and weather issues left Portugal and Turkey 10-20% short of forecasts, but combined with sizable crops in California, China, and Spain, world production still came in 20% higher than in 2013 at 39.9 million MT vs. 33 million MT.

Morning Star Newsletter now distributed electronically
As a reminder, Morning Star is now distributing our newsletters electronically using an email distribution vendor called Mailchimp. Your e-version will now include informative Morning Star videos and highlights. Depending on your company's firewall, these emails may initially be directed to you spam folder.