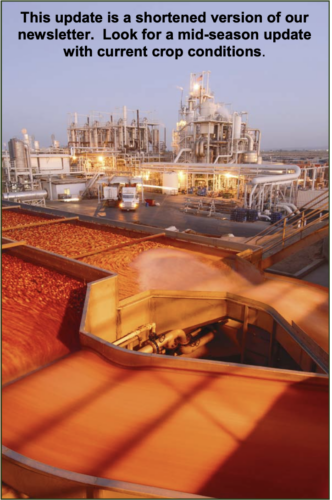 Conversion Note: 1 metric ton = 1.102 short tons
Fueled by several years of worldwide tomato paste shortages, global processed tomato production is rising to meet the demand.
The global crop is expected to set a record at just shy of 40 million metric tons (MT), according to the World Processing Tomato Council. The previous record of 36.6 million MT was set in 2004. Last year's production at 36.58 million MT was no slouch, but 2009 could prove to be 13% larger.
After California, China expects to produce the most processed tomatoes at 7.68 million MT. This is 1.27 million MT tons more than produced in 2008.
To reach this large production increase, Chinese processors have added 31 new processing lines with capacity of at least 28,000 MT of fresh tomatoes per day, reported FoodNews.

Morning Star Newsletter now distributed electronically
As a reminder, Morning Star is now distributing our newsletters electronically using an email distribution vendor called Mailchimp. Your e-version will now include informative Morning Star videos and highlights. Depending on your company's firewall, these emails may initially be directed to you spam folder.