Pricing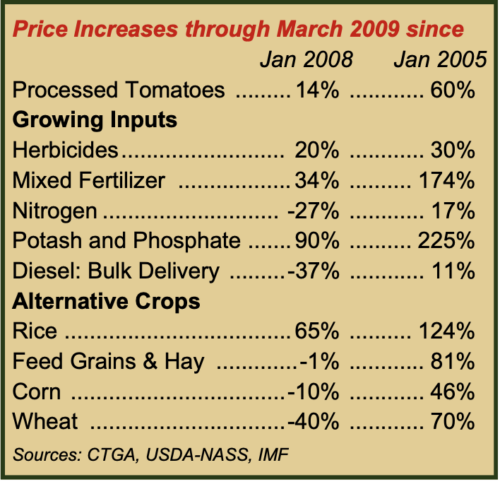 For the fourth consecutive year, California's packers will pay substantially more for raw tomatoes. After a protracted negotiation, growers and processors settled at $80 per ton in late March. This year's contract price represents a record increase of 14.3% over last year's $70.
Processors and California Tomato Growers Association agreed that the price of tomatoes would increase for 2009, the difficulty came in deciding on an appropriate increase.
From a grower perspective, the 2009 price needed to make up for losses in 2008. After contracting for a record high price of $70 per ton in December 2007, growers watched their profit margins deteriorate as input costs spiked. The unexpected inflation of fuel and fertilizer added $200 per acre ($5 per ton) to grower expenses between January and June 2008, according to the CTGA.
In an effort to recoup income lost, the CTGA announced in October an aggressive offer of $95 per ton for the 2009 crop. But processors were unwilling to pay such a drastic increase as prices for fuel, fertilizer, and alternative crops plummeted off their highs in July. After months of negotiation, the CTGA finally settled on $82.25 with two processors in late February, and it seemed the price was set. Usually, once one processor agrees to a price, the rest follow. Not this year.
After another month of negotiations, the CTGA still hadn't signed with any of the remaining processors. Morning Star and the other packers held out for a better price, eventually getting an $80 per ton agreement in late March.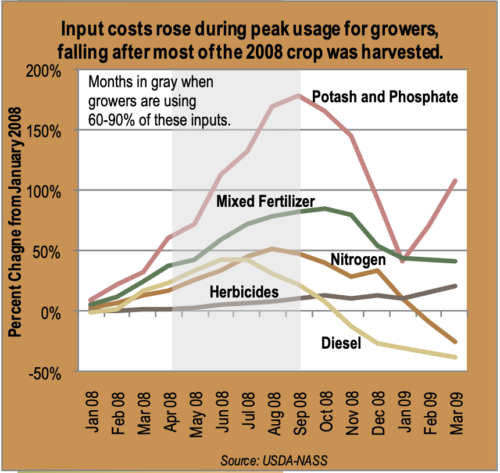 Although growers did not get their initial price, raw tomato prices have risen 60% since their 2005 price of $50 per ton. This increase reflects growth in input costs and prices for other crops growers could plant.
Forecast
Despite the high price of tomatoes, processors are contracting for additional acres. Tomato contracts are at a record 13.3 million tons, according to the January California Agricultural Statistics Service release.
Although it's thrilling to think about a crop 25% above the 10-year average, in reality California's processors and growers expect a much smaller crop. A more likely volume sits between 12 and 12.5 million tons.
Crop Conditions
Growers are busily transplanting seedlings and conditions in the fields are favorable. Southern growers began transplanting in February with northern growers following in March. Planting will continue until June. The only setback being freezing temperatures in early March which damaged some freshly planted seedlings.
Although rainfall has been close to normal, water allocations continue to be minimal, as reservoirs and snowpack are still below average. Yet using subsurface drip irrigation, conservation and groundwater, California's growers are resourceful at getting water to their fields.

Morning Star Newsletter now distributed electronically
As a reminder, Morning Star is now distributing our newsletters electronically using an email distribution vendor called Mailchimp. Your e-version will now include informative Morning Star videos and highlights. Depending on your company's firewall, these emails may initially be directed to you spam folder.