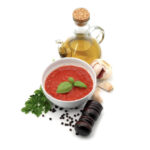 When cooking in your own kitchen, you buy the best ingredients to create a flavorful meal. The same holds true for the foods made in your company's kitchen. Therefore, price shouldn't be the only deciding factor as you look to make purchasing decisions for the coming pack season.
Consider the value of the packer who makes your ingredients. At The Morning Star Packing Company, we work with you to create the ultimate tomato ingredients for your finished products.
For decades, we have excelled at meeting our customers' expectations for quality, consistency and price. To make sure we stay
on top of our game, we've invested heavily our factories to keep them state-of-the-art, ensuring our ability to continue to deliver the best tomato ingredients to you.

Morning Star Newsletter now distributed electronically
As a reminder, Morning Star is now distributing our newsletters electronically using an email distribution vendor called Mailchimp. Your e-version will now include informative Morning Star videos and highlights. Depending on your company's firewall, these emails may initially be directed to you spam folder.