Meet Saul Alarcon – Colleague of The Morning Star Packing Company since 2010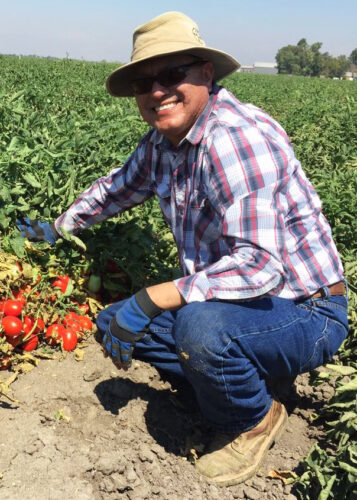 Hard-working and value-driven, Saul has been a part of the Morning Star/Cal Sun Growers' family for 13 years. He often describes himself as the "happiest colleague at Morning Star" because he is passionate about his mission and loves what he does. His enthusiasm for research is contagious, apparent in the team he has created for Agriculture Research and Development here at Morning Star. As the most experienced colleague in the department, his team recognizes and appreciates his mentorship and guidance.
As you have most likely read in recent newsletter articles, Saul has played a major role these past few years in the development and success of Gradient Crop Yield Solutions, a sister company to Cal Sun Grower Services. Saul and the team have been instrumental in advancing what they call "Smart Farm Management" by leveraging and integrating technology to help farmers make informed decisions.
In addition to his professional accomplishments, what is most impressive is that Saul somehow finds the time to continue his education. He is now in the process of finishing his Master's Degree from Iowa State University, while working 80+ hours a week and spending quality time with his family. In looking a little deeper into who he is as a person, it's clear that education and maintaining solid personal standards are at the core of Saul's values, with the concept of "happiness" leading the way.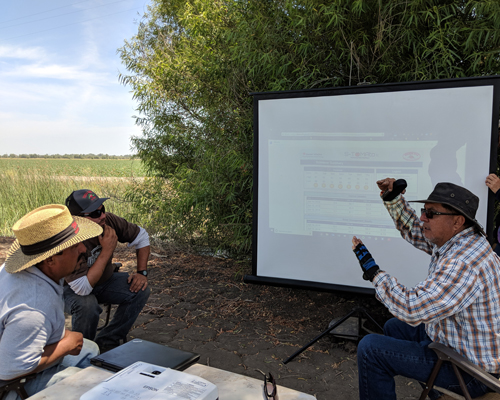 Personal Commercial Mission Statement:
Contribute to the development of a solid agriculture research and development program aimed to generate technological advances to enhance tomato yields, quality and profitability of both tomato growers and Morning Star operations.
Here is a peek into some of the things that have contributed to making Saul the colleague he is today:
How did you first learn about Morning Star?
I learned about Morning Star in 1993 when I was working for Campbell Soup Company in Guasave Sinaloa, Mexico. A US executive who visited us one day characterized the Morning Star brand as synonymous with modernity. Thirteen years after coming to the US in 1997, I started my career at Morning Star.
Before working at Morning Star, what was the most unusual or interesting job you've ever had?
At one time I was developing agriculture technologies to fight against tomato insects and diseases.
What are 3 words to describe Morning Star?
Leadership. Innovation. Success.
What drew you to Morning Star originally?
I was drawn to Morning Star's massive size and vast involvement in the tomato industry.
What do you find most challenging at Morning Star?
It has been a challenge adjusting to the Mission-Focused Self-Management culture.
What is on your wish list for the next 10 years?
My health, more opportunities to grow professionally, and to continue having fun in my job.
Tell me about your previous work experience.
I have had many challenging jobs before my time with Morning Star, but they allowed me to acquire valuable experience in the ag industry and to develop important business relationships.
Tell me about your family.
My wife Celina and I have a happy, humble family that enjoys life every single day! I have two kids, daughter Celina Elena, age 25 and son Marco, age 21. Celina Elena lives in Madera, CA, where she works at the Madera County library. Marco resides in Davis, CA, where he is pursuing a degree in Neuroscience at UC Davis. We enjoy eating out together, but mostly prefer to relax at home having quality family time.
What do you like to do in your spare time?
I enjoy riding my road bike, I love playing (and watching) basketball, and listening to music. I recently started a business venture with my family back in Mexico.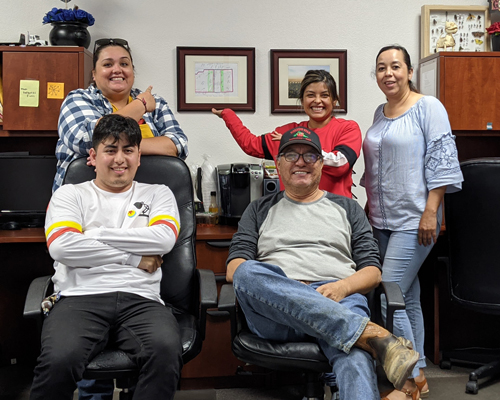 What is your favorite book?
The Art of War, by Sun Tzu, which is a fascinating ancient Chinese military treatise that remains strategically relevant to business and everyday life today.
What's on your bucket list?
My mission in life is to do my best to show my kids, every single day, the value of education and the importance of maintaining solid personal values as the backbone for their success in life. As a professional, I would like to believe, at the end of my career, that I contributed to the improvement of worldwide agriculture in a meaningful way.
###

Morning Star Newsletter now distributed electronically
As a reminder, Morning Star is now distributing our newsletters electronically using an email distribution vendor called Mailchimp. Your e-version will now include informative Morning Star videos and highlights. Depending on your company's firewall, these emails may initially be directed to you spam folder.