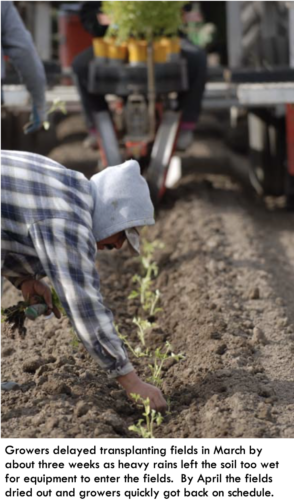 Strong winds, heavy rains and cold temperatures in March put California's processed tomato crop behind schedule. Transplanting was delayed about three weeks as growers waited for a break in the storms long enough to dry out the ground.
California enduring its rainiest March in a decade. Statewide rainfall of six inches in March exceeded the 10‐year average by four inches.
With full reservoirs and snow-pack water content at 165% of normal, Governor Jerry Brown lifted the drought order declared by Governor Schwarzenegger in June 2008.
Interestingly, growers south of the Delta will still only receive 65‐70% of their water allocation to preserve fish and wildlife habitat.
Although the rains were welcomed for filling the reservoirs and recharging groundwater, tomatoes tend to struggle in wet years. The vines are more prone to disease and yields suffer.
Additionally, the wet fields pushed back the transplant‐ ing, creating adjustments to the planting/harvesting/ processing plan.
Officially the crop expectation is 2.4% higher than last year at 12.6 million tons according to the January 14
release of the NASS/USDA California Processing Tomato Report.
Many in the industry were sur‐ prised to see such a large fore‐ cast and are eagerly awaiting the next report due on May 27. The industry anticipates a smaller forecast as packers adjust to the higher tomato price, field delays, and high inventory levels.
On April 8, the packers reached an agreement with the California Tomato Growers Association (CTGA) for a $68 per ton price for tomatoes. The price is up 4.6% from last year's $65 per ton, but down 15% from 2009's record of $80 per ton. In January packers hoped for a price reduction to $62 per ton, but growers costs have increased over last year.

Morning Star Newsletter now distributed electronically
As a reminder, Morning Star is now distributing our newsletters electronically using an email distribution vendor called Mailchimp. Your e-version will now include informative Morning Star videos and highlights. Depending on your company's firewall, these emails may initially be directed to you spam folder.