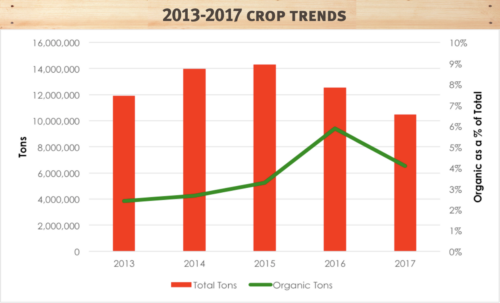 Theodore Roosevelt once said "Do what you can, with what you have, where you are." That sentiment was echoed in this year's processing tomato season.
A very wet winter created difficult planting and scheduling conditions, followed by a spring and summer characterized by durations of extreme hot weather. While most Californians were happy with the rain, which eased concerns of drought, growers and producers struggled with adapting to the atypical climate and growing conditions.
California processors topped only 1 million tons processed per week for 2 weeks, as opposed to the previous 5 year average of 1 million tons per week for over 7 weeks. Based on the latest Processing Tomato Advisory Board estimate, growers will average almost 3 tons fewer per acre than the 5 year average of 48.4 tons per acre.
Not only were growers faced with difficult weather conditions, an increasing amount of Fusarium Race 3 Wilt appeared, lowering growers' yields. There are not yet enough high-quality F3 resistant varieties available; however, seed companies are committed to actively pursuing new F3 resistant varieties to solve this problem.
While many felt that the tomato field yields would be off due to the spring and summer weather, processors as a whole were still optimistic with their August projections that the crop would still be 11.5 mm tons, only 300K tons lower than the original projections of 11.8 mm tons.
The reality of the situation presented itself more prevalently during the middle and latter part of August, with processors recognizing the impact that June and July heatwaves had on crops. Final volumes came in at just under 10.5 million short tons processed. This represents a 17% reduction from the previous year.
Breaking that number down, we can see that this reduction is made up of a 15% decrease in conventional tomatoes and a 42% reduction in organic tomatoes. The decrease in organic tomatoes was a combination of the irregular growing season as well as processor adjustment to demand following the high level of organic tomatoes processed in 2016.
As a result of the wet winter, the reservoirs in California are in better shape than a year ago. The Northern California reservoirs are between 59
to 121% of historical average and 36% to 72% of capacity versus 59% to 99% of historical average and 33% to 59% of capacity a year ago. Work continues on the Oroville Dam spillway to get
it repaired ahead of the rainy season. The central California reservoirs are between 124% to 180% of historical average and 53% to 84% of capacity versus 39% to 108% of historical average and 18% to 65% of capacity a year ago.
Growers are hoping for a normal to wet winter so that they can receive water allocations similar to the 2017 year, when State Water Project growers received 85% allocation and Central Valley Project farmers received 100% of their allocation. These allocations were much higher than the prior year when State Water Project growers received 60% allocation and Central Valley Project farmers received only
a 5% allocation. The need for water storage in California should be even more apparent in a wet year like 2017 when over 48 million acre feet of water have flowed out to the ocean.
2018 looks like it will share similar dynamics as 2017 (when row crops that compare with tomatoes did not experience substantially increased sales prices or demand). Growers continue to convert some farm land from row crops to permanent crops for not only a potential for higher returns but also a reduction in labor requirements.
Mother Nature has surely aided California processors in adjusting the inventory in 2017. With high inventories after the 2015 season, processors are continuing to see contractions in the market. Intentions for 2018 have not yet been discussed, but with inventories still a concern, volumes will likely remain on the conservative side.

Morning Star Newsletter now distributed electronically
As a reminder, Morning Star is now distributing our newsletters electronically using an email distribution vendor called Mailchimp. Your e-version will now include informative Morning Star videos and highlights. Depending on your company's firewall, these emails may initially be directed to you spam folder.