Mild spring temperatures accompanied by light disease and pest pressure created good conditions for the current processing season
The 2018 processing season is upon us. Growers and processors alike expect the 2018 season to be stronger than 2017 in terms of growing conditions. The mild temperatures enjoyed this spring by California plants allowed better growth than last year. In addition to better climate conditions, disease and pest pressures have declined.
While the outlook remains positive, there are factors in play that still raise cause for concern. Water, an ever-present concern for California farmers, still plays a significant role in growing conditions. California received adequate rainfall in November, but fell behind in the period December through February. Fortunately, the March rainfall helped replenish reservoirs.
Reservoir conditions in the state rebounded to strong levels. Lake Oroville remains at a lower level; however, this is attributed to structural issues regarding the dam and having to lower the water level in 2017 to prevent the chance of a failure of the dam. Despite adequate rainfall and good reservoir levels, the federal allocation for land south of the Delta is only at 50%. The US Bureau of Reclamation was cautious with its initial allocation south of the Delta at only 20%, only increasing it on April 20, a date too late for many farmers to adjust their crop plans. The State Water Project followed a similar pattern and is currently at a 35% allocation level. On the other hand, supplies in Northern California were at 100%.
Water was not the only factor in early crop concerns. Temperatures in February were very cold with frost causing damage to some crops. The cold weather delayed a portion of early South plantings while growers waited for warmer conditions to begin planting. Once planting season started, there were only minor interruptions in the South.
Conditions in Northern California were a different story. Northern storms drifted across the region delaying plantings and causing additional interruptions during the planting season.
Growers anxious in both the North and South risked entering fields early to prepare the beds and plant under damp soil conditions, causing some soil compaction. Many growers who had soil compaction issues have mitigated the compaction problem with targeted use of drip systems for both water and nutrients.
In terms of disease, the spread of the Fusarium Race 3 wilt continues; however, new Fursarium Race 3-resistant varieties show promise. While growers hoped for a cool summer to boost yields, the weather after July has turned quite hot, with cities like Fresno breaking heat records.
California predicts approximately 11.9 million tons of production based on 238,000 acres planted. This total tonnage is based on a record yield of 50 tons per acre. Early season expected yields of both the South and the North look promising. Early southern yields have been very good. While we wait on the results in the North, the question remains if the resilient tomato plant can overcome a record-breaking duration of hot days and warm nighttime temperatures to produce a 2018 crop with record-breaking yields.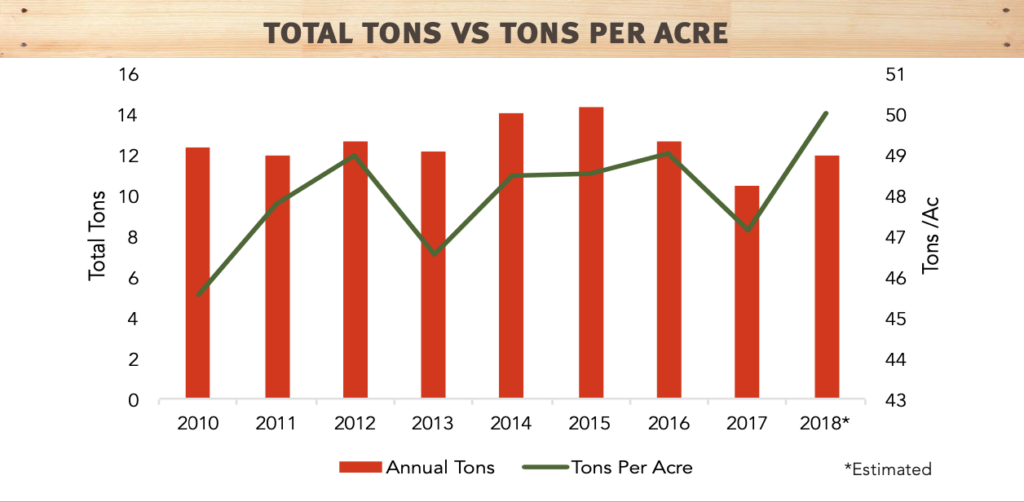 Morning Star Newsletter now distributed electronically
As a reminder, Morning Star is now distributing our newsletters electronically using an email distribution vendor called Mailchimp. Your e-version will now include informative Morning Star videos and highlights. Depending on your company's firewall, these emails may initially be directed to you spam folder.