Intentions are on par with past years, growers expect increase in average yields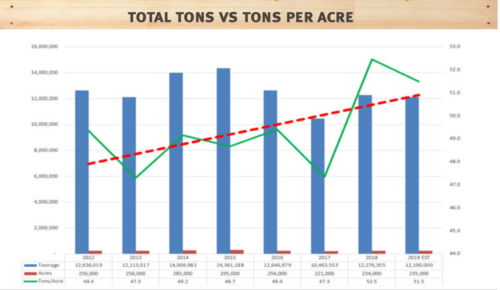 The 2019 processing tomato crop will prove to be another interesting challenge for farmers as the harvesting and processing season approaches. While California received ample rainfall, which provided the state with a generous snow pack, plantings were delayed due to the seemingly beneficial water supply.
Southern and Central California planting areas were less affected by rainfall, with few plantings being delayed; however, Northern California plantings were delayed by as much as two weeks. We will likely see small amounts of, if any, processing tomatoes harvested in July in the northern region of the state.
High winds and periods of elevated temperatures have also forced farmers to adjust their tactics – causing transplanting to occur at night or fields to be replanted. Given the adjustments made by farmers, we are now seeing healthy plant growth in both the southern and northern regions.
As always, water will play a vital role this season. The state percentage of snow water equivalent is at 138%, with Northern California reservoirs between 108-120% and Central California between 92-133%. While we see encouraging figures in the reservoirs,
it is disheartening to learn that allocation is at 65% and 70% for the Central Valley and State Water Project respectively. Between April 1 and May 5, approximately 5.9 million acre feet of water flowed to the ocean, with only 195,200 acre feet pumped to the south for state and federal pumps. Because of the state's inability to capture water, growers must now pump groundwater to meet their needs.
California intends to process 12.1 million tons in 2019, harvesting from 235,000 acres and resulting in an average yield of 51.49 tons/acre. While last year was exceptional with an average yield of 52.5 tons/acre, 51.49 tons/acre will be an ambitious goal for farmers this year. Looking back, the three-year average in 2018 was 49.54 tons/acre and, while California has demonstrated a steady increase in yields over time, it will remain to be seen if this year's crop will rise to the expected yield.
So far in this planting season, growers have had little problem with soil insects and sugar beet leafhoppers (the vector for the curly top virus) remain in very low counts.
Another area of concern for California growers is the topic of labor. Growers are facing cost increases in labor due to minimum wage increases and new overtime laws diverging from agricultural labor laws of the past. Services that supply growers, such as greenhouses and transplanting services, tend to use a lot of labor, and, as a result of higher labor costs, have been forced to increase prices. In addition, seed prices have also risen above 2018 rates.
In a market where product pricing is a highly determinant factor in purchasing, growers are facing the task of maintaining profitability and competitiveness in the global marketplace. The answer seems to rely on variety improvements and grower practices where yields can help increase the efficiency of grower efforts.
In conclusion, we will likely see a fairly normal 2019 tomato crop, with growers proving their resilience once more.

Morning Star Newsletter now distributed electronically
As a reminder, Morning Star is now distributing our newsletters electronically using an email distribution vendor called Mailchimp. Your e-version will now include informative Morning Star videos and highlights. Depending on your company's firewall, these emails may initially be directed to you spam folder.