In 1995, our Morning Star factory in Williams, CA was up and running. What many people don't know about are the battles undertaken behind the scenes in order to successfully get the largest processing factory in the world on its feet in time for the season. This particular factory was constructed in record time, with groundbreaking in February 1995 and processing starting on August 1, 1995. The original processing capacity was 350 tons/hour, designed to reach 500 tons/hour. Williams now holds the title of the highest capacity processing facility in the world at over 1300 tons/hour.
Now, in 2019, we still have several colleagues who were on the ground in 1995 as operations got started. Among those were Brian Hagle, Mark Beitler, Marc Haywood, Christie Ponciano, Sara Mendez, Beau Wad- dell, Troy Cano, Johnny Johnson (JJ), and John Coghlan.
Brian Hagle started working with Morning Star at Williams being a Control Room runner. Now, in 2019, he is a great asset for our Evaporation Business Unit. Recalling the building of Williams in '95, Brian said, "I remember extensive construction, informal team building, grueling long hours, determined colleagues, and daily – sometimes hourly – challenges. Chris Rufer [owner and founder] slept in the truck driver trailers in the shop and his wife brought him clothes and provided food for everyone in the Control Room. It was great working with colleagues through those challenges."
Mark Beitler came to Morning Star from Denver, CO. "Years of doing experimental research in graduate school taught me how to look at technical issues from different angles. Striving to do the impossible is the ultimate goal at Morning Star." When asked about his experience during the opening season at Williams, he said, "I remember the plant shutting down repeatedly and asking a fellow colleague if that was normal (as I hadn't worked in a tomato plant before), and he laughed and said, 'No.'"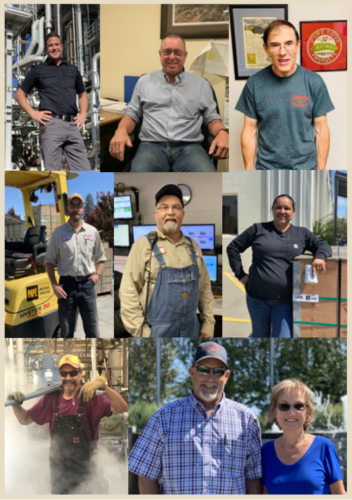 Marc Haywood started in Tomato Preparation (unloading tomatoes to send to the finishers) and is now involved with tomato grower business development. He began working as a seasonal colleague but applied for a full-time job at the Williams facility and arrived in time for construction. Marc recalls that, "Challenging would be an understatement" when asked to characterize construction.
Christie Ponciano became involved with Morning Star as an AP/AR colleague and continues her work in Administration and AR. Christie noted, "Everyone was mostly strangers to each other in the beginning, yet everyone got along so well. They all learned together. My biggest challenge was trying to learn everyone's name!"
Sara Mendez began as a tomato sorter in '95 and now works in distribution. She recalls, "I remember meeting Chris [Rufer] on the flume and not knowing he was the owner." This year, she will welcome her first grandchild.
Beau Waddell originally started in Shipping and Receiving activities in '95 but now is heavily involved in our extensive distribution operations. He fondly recalls, "The Williams team was like a family. I worked with a great group of guys like Gordon Gardner and David Clay. It was a huge push to get the plant up and running."
Troy Cano worked as an aseptic mechanic in '95 but now deals with aseptic packaging as a whole. He originally had his own truck repair business but was on a ski trip with some Morning Star veterans and was approached about moving to Williams for the build. He explains, "I remember the disasters that took place that opening season. We had a fire well blow up, and several other big setbacks. Despite all the craziness, we made it! And now look where we are."
Johnny Johnson (JJ) worked in Shipping and Receiving at the start but now focuses on steam generation and electric motors. Coming to Morning Star after responding to an advertisement in a newspaper, JJ remembers, "That first season was organized chaos, for sure."
John Coghlan worked in construction supervision and startup support and continues those efforts as a construction coordination colleague. Having already worked in the tomato industry prior, he had invaluable experience for the difficulties of, as he explains, "time constraints on construction, challenges of the new factory startup, and de-bottlenecking processes during production."
We are so lucky to have such a great group of dedicated and talented colleagues who make Williams such a special place.

Morning Star Newsletter now distributed electronically
As a reminder, Morning Star is now distributing our newsletters electronically using an email distribution vendor called Mailchimp. Your e-version will now include informative Morning Star videos and highlights. Depending on your company's firewall, these emails may initially be directed to you spam folder.