Dedicated organic line for paste and diced products allows for organic production throughout the entire season.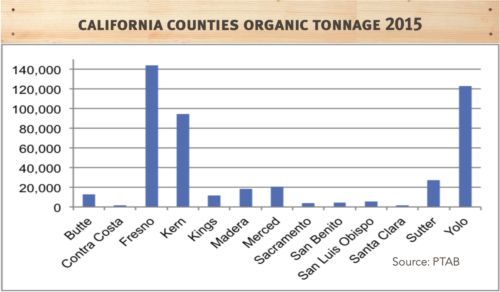 One of Morning Star's most recent capital projects has been to further revolutionize our Liberty Packing facility in Santa Nella, CA to provide for high volumes of organic tomato production. The tomato unloading station has been modified to create a separate line for the organic tomatoes to arrive and enter their own dedicated flume into the world's second largest processed tomato factory.
One of the most unique aspects of this new organic line is simply the fact that we now have the ability to run organic products throughout the entire season. Most processors choose to process organics at the beginning of the season, when the tomatoes may not be at their highest quality, because the factory has to be completely sterilized and meet organic standards without additional hassle or plant downtime.
One of the most important benefits of sourcing tomatoes throughout the season is obtaining high quality tomatoes to make finished products. We source our tomatoes from the San Joaquin Valley, where tomatoes are higher in solids, color, and flavor. By being able to wait for the organic fields to properly achieve their best quality, typically from mid-season tomatoes, we can better achieve consistent finished product quality.
Processing organics throughout the season also provides a more reliable supply of finished products for our customers because a crop failure (unique pest or weather events) is less likely to negatively affect our whole supply.
In 2015, we successfully completed our run of the new dedicated line. Last year, Morning Star (Liberty Packing) produced approximately 30 million pounds of organic bulk paste and 50 million pounds in bulk diced.
This coming year, our production capacity will reach 200 tons/hour of paste and 60 tons/hour of diced. That translates into a finished product production capacity of 130 million pounds of paste (31% equivalent) and 100 million pounds of diced. Of course, while capacity exists, actual production will depend on the needs of our customers.
California as a whole produced 469,858 tons of organic tomatoes in 2015. While the organic market is growing, it still only represents 3.4% percent of the state's 14 million tons. In recent years, many household brands have added an organic alternative to their product lines, allowing for greater customer choice and flexibility.
If you're interested in learning more about our organic products, please contact your sales colleague.

Morning Star Newsletter now distributed electronically
As a reminder, Morning Star is now distributing our newsletters electronically using an email distribution vendor called Mailchimp. Your e-version will now include informative Morning Star videos and highlights. Depending on your company's firewall, these emails may initially be directed to you spam folder.