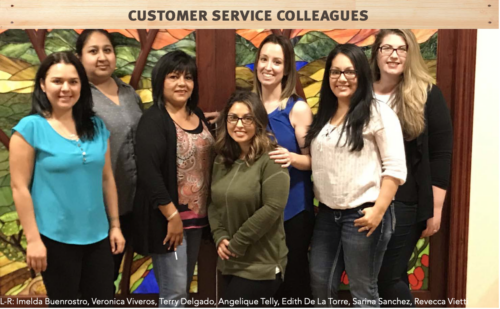 Our Customer Service group is comprised of a diverse group of colleagues, each committed to their mission of "Consistently delivering the best service experience by providing timely, responsive service with integrity and a commitment to excellence
while exceeding our customers' expectations." The Customer Service group is made up of (listed by tenure) Edith De La Torre (2003), Veronica Ramirez (2007), Terry Delgado (2008), Imelda Buenrostro, Rebecca Vietti (2010), Sarina Sanchez (2011), and Angelique Telly (2013).
Each of our Customer Service colleagues has a unique background. For example, Angelique used to work with the California Highway Patrol, Rebecca worked at a pre-school, Veronica worked for Ranchwood Contractors, Sarina worked in customer service for an insurance company, Terry was involved in sales for an electronic company in the bay area, and Edith started working for Morning Star after finishing high school.
While everyone's backgrounds are incredibly different, each colleague spends their time away from work around friends and family.
Terry has a love for music, enjoying 1940s big band, classic rock, and R&B. She also spends time riding with her husband on their Harley Davidson and camping in Yosemite.
Rebecca grew up close to where she works now and her family lives close by, some even work at Morning Star. Her husband also works in the agricultural industry and helps to grow many of the tomatoes processed at Morning Star.
Sarina and her husband have been together for 19 years and married for 10, having a 9-year-old son and a 6-year-old daughter.
Angelique has been with her husband for 10 years but they originally met in first grade! They have three daughters together and Angelique sometimes feels bad for her husband having a house full of girls. Angelique enjoys watching her daughters compete in softball, especially if it's a close game.
Terry comes from a family of 18 aunts and uncles on her mother's side and she estimates her family has over 400 relatives. Every three years, they gather the family together for reunions. Terry says her favorite time is Sunday dinners with her and her husband's three grown children and eight grandchildren.
Edith enjoys cycling and has a year-old baby and loves to watch her grow.
Veronica spends her time with her husband and two children, playing sports or relaxing and BBQing. Her son, Anthony, is 16 and a junior in high school and her daughter Lilyana is 6 and just started kindergarten this year.
I asked the colleagues a few questions about their time at Morning Star and being involved in the Customer Service group.
Q: What's the most challenging aspect about working in customer service?
Veronica: There's never enough hours in the day to get everything you need to accomplish done!
Edith: Having to give a customer disappointing news. I wish we could be the Disneyland of the tomato world.
Terry: Sometimes 8 hours just fly
by, it takes a lot of patience and understanding to handle the variety of responsibilities and tasks each day.
Q: What's the best part about working in Customer Service?
Angelique: The level of teamwork involved, and enjoying the various personalities and senses of humor of my colleagues.
Sarina: Every day is different, we are constantly learning new things and I like the challenge.
Rebecca: We get opportunities to build relationships with people all over the world. I love seeing my customer's products in the store and being able to say "Hey, those are my tomatoes!"
Q: What's a unique or fun fact about yourself?
Edith: I love decorating.
Terry: I was once a Mary Kay consultant.
Angelique: I love WWE wrestling! I blame my husband.
Sarina: I am deathly afraid of heights.
Rebecca: I have a life goal to visit a new country every year. I don't like to plan much further than how I'm going to get there and where to stay – the rest is an adventure.

Morning Star Newsletter now distributed electronically
As a reminder, Morning Star is now distributing our newsletters electronically using an email distribution vendor called Mailchimp. Your e-version will now include informative Morning Star videos and highlights. Depending on your company's firewall, these emails may initially be directed to you spam folder.