Global forecast still an increase from 2018 levels of 34.8 million mT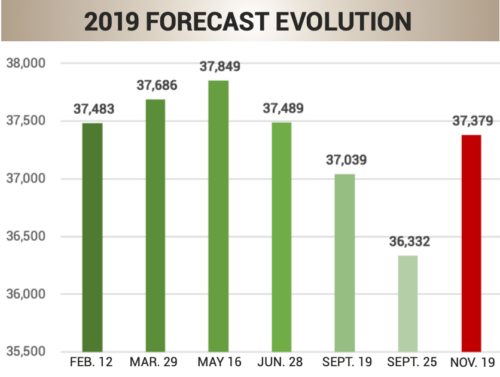 The 2019 international crop represents a 7% increase from the 2018 crop. While final figures accurately reflect intentions set at the beginning of the year, weather and disease during the season caused forecasts to waver and fall. However, despite the setbacks, producers were nearly able to meet the original intention of 37.5 million mT.
Italian forecasts had originally been reduced to 4.7 million mT. Northern Italy was significantly impacted by late rains. Weather conditions caused the total volume forecast to be less than 2.4 million mT. Southern and Central Italy were boosted by record quantities delivered late in the season, with 1.97 million mT having been processed. Italy completed its season processing 4.8 million mT.
The Andalucia region in Spain has reached the end of its harvesting season, seeing one processing facility closed in August while others closed around the first week of September. Some rains hit the Extremadura region, but yields and volumes were good and factories completed production in early October. Inclement weather caused concerns about production in the Navarra region at the end of August but resulted in little damage to fields. The final production of 3.2 million mT is higher than Spain's original forecast.
Factories in Portugal were running at full capacity until the end of September. Late September saw one significant rain which slowed harvesting, and the region endured cold evening weather at the end
of the season but processed 1.41 million mT. Notably, field yield was promising at 97 mt/ha with average brix of 5.2.
Hungary experienced some setbacks this season due to late planting troubles. Rain also caused production
to stop at times. The final volume produced is 100,000 down from their 120,000 forecast.
Exceptionally hot weather in Greece hurt crops in the south, causing lower yields. Rains at the end of harvesting caused several stops in production; however, quality stayed good and Greece met their 400,000 mT forecast.
Turkey's forecast remained steady throughout the season, with the final crop coming in at 2.2 million mT.
China's production season came to a close at the end of September. Final production numbers finished on par with their forecast and are reported at 4.3 million mT.
France experienced some cooler weather this season, causing maturation of plants to be slower than normal. As of the end of September, France had processed 120,000 mT with good quality, and their final production volume was 154,240. Organic production was nearly 12% of their total crop.


Morning Star Newsletter now distributed electronically
As a reminder, Morning Star is now distributing our newsletters electronically using an email distribution vendor called Mailchimp. Your e-version will now include informative Morning Star videos and highlights. Depending on your company's firewall, these emails may initially be directed to you spam folder.